Alleged Moto G2 specs spotted in GFXBench
Motorola's next budget smartphone might be an incremental but bigger update to the Moto G. That is, at least, according to these specs unearthed from graphics benchmark site GFXBench. The details for a certain Motorola XT1063, believed to be the Moto G2 (or Moto G+1, if you prefer) show very little significant change from the company's current wallet-friendly smartphone.
The association with the Moto G comes from the fact that its model number is XT1032. Based on these specs, the Moto G2 is now believed to sport a 5-inch screen. That's definitely quite larger than the G's 4.5 inches. However, the resolution stays the same at 1280x720, so it means there will a lower DPI. One other change, or rather two, is the camera. Both of them. The back now sports an 8 megapixel shooter while the front has a 2.1 camera, up from the 5 and 1.3 megapixels, respectively, of the Moto G.
The rest of the specs listed in this benchmark, sadly, remain the same at this point. That is, 1.2 GHz quad-core Snapdragon 400 and 8 GB of storage, There is Android 4.4 out of the box, but the Moto G already has that too anyway. The whole bevy of sensors loaded into the smartphone also remains unchanged, for better or for worse.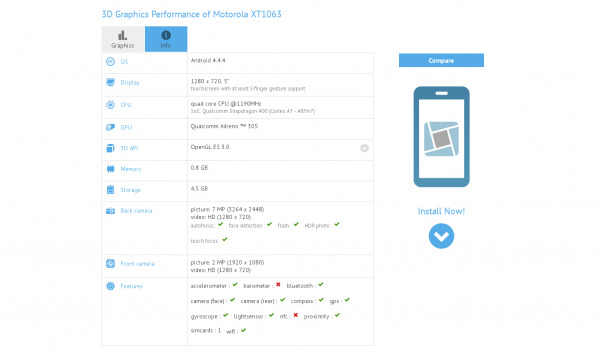 It is somewhat disappointing that Motorola's next budget device might not have any significant improvements, especially in the processor and RAM. The larger screen might even be a liability, since it not only is larger to hold, but might actually introduce more power draw for very little gain. Still, these are just speculations and we'll have to wait for either more leaks or an official announcement from Motorola itself before we set the gavel down. Rumor is that the manufacturer will announce the Moto X+1 and Moto G2 (G+1?) side by side, but when that will happen is still anyone's guess.
SOURCE: GFXBench
VIA: GSMArena