Alienware's new headset and gaming mouse mark an unusual peripheral focus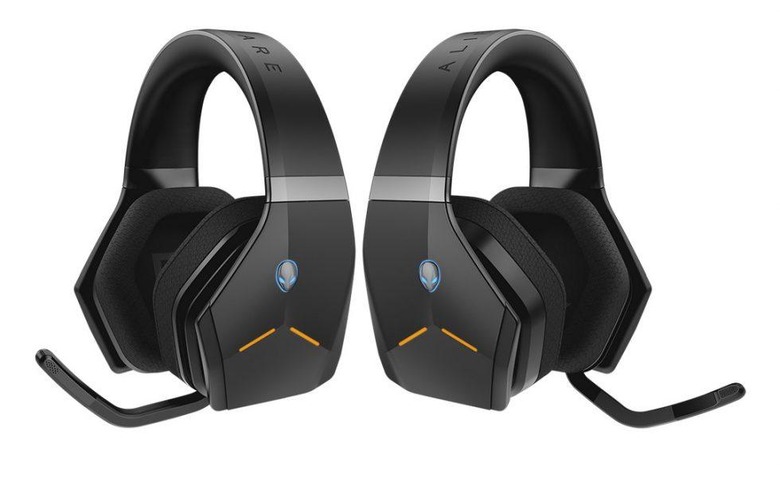 Alienware, known for its high-end, pre-built rigs, announced a dive into PC gaming peripherals today. The Dell-owned company has two new PC accessories in particular: a wireless headset and a wired gaming mouse. Though Alienware has dabbled in gaming mice and keyboards throughout the years, this new headset – called only the Alienware Wireless Headset – is particularly notable, as it's the first wireless headset the company has ever produced.
In fact, headsets in general are a rare sight from Alienware, as the last one it offered was the TactX in 2009. On the surface, the new headset might seem to be your standard wireless fare, but one standout feature is its virtual 7.1 surround sound. It uses 40mm neodymium drivers to achieve a frequency response of 20Hz to 20KHz and produce what Alienware calls an "expansive soundscape."
The Alienware Wireless Headset is charged via micro USB and connects to your PC through a 2.4GHz wireless dongle (or a 3.5mm cable, if you so choose). The 1,200mAh battery is good for up to 15 hours when fully charged, but how much life you manage to squeeze out of it depends mostly on whether or not you have its AlienFX lighting features turned on. Finally, the headset features a fold-out noise canceling mic that automatically mutes when it's folded into the headset, along with mesh ear cushions and rotatable ear cups.
Next we have the Alienware Elite Gaming Mouse, which features a silver aesthetic similar to the other gaming mice Alienware already offers. This has all the standard features you'd expect from a gaming mouse, including customizable DPI and weight settings, along with support for AlienFX. Where it manages to separate itself from the herd are in its interchangeable side wings, which feature either two or four side buttons and let you choose what you need depending on what you're playing.
So, for a company that doesn't usually put a major focus on peripherals, these sound like fairly solid accessories. The Alienware Wireless Headset is launching on June 11 worldwide with a price of $229, while the Elite Gaming Mouse arrive in the US on July 31 for $89.99.