Alienware Aurora Gaming Desktop Gets Intel Ivy Bridge-E And Next Gen Graphics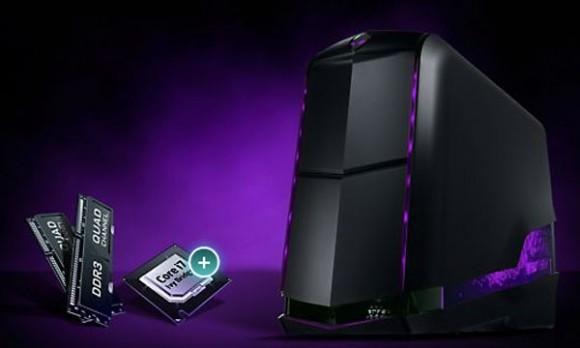 Years ago, Dell Computer gobbled up boutique gaming PC manufacturer Alienware. Dell has been manufacturing Alienware gaming notebooks and desktops ever since. This week Dell announced some interesting upgrades to its Alienware Aurora gaming desktop including new Ivy Bridge-E CPUs and advanced graphics.
The gaming desktop is now available with Intel Ivy Bridge-E Core i7 four and six core processors. The machine can also be fitted with next-generation Nvidia and AMD graphics to bring more realism to your favorite video game. Dell has also added a new thermal management system to the optional ALX chassis for the desktop.
The new available processors include Intel's high-end Extreme Edition option featuring up to six cores and 15 MB of cache. The processor can be overclocked all the way to 4.3 GHz using Turbo Boost technology. The new processors available are part of the Intel 4000-series announced at IDF 2013. Gamers can also opt to equipped the Aurora with Nvidia GeForce 700-series discrete GPUs or AMD 8900-series graphics.
The ALX chassis is still available as an option and offers a new intelligent thermal management system. The thermal management system monitors different locations within the computer case to be sure heat is being shed and to keep the machine running optimally. The Aurora ALX chassis also features liquid cooling for the CPU to enable higher overclocking and lower operating temperatures for better stability. The updated components are available now and can be purchased with the Core i7-4820K Ivy Bridge-E processor and an Nvidia GeForce GTX 760 video card starting at $1399.
SOURCE: Dell