Algiz 10x tablet is built for the great outdoors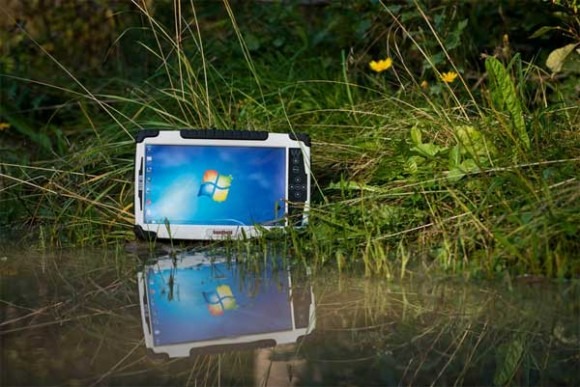 If you're anything like me, taking your iPad or Android tablet outside might cause butterflies in your stomach. I know one little rain shower or a little drop is likely going to be the end of my expensive tablet. This is why I rarely take my tablet outside, but if you're the outdoors type who wants to have a tablet everywhere you go, leaving your tablet inside might not be an option. The Algiz 10X is very nice option for hunters or other people who spend a lot of time outside that want a tablet PC with them.
The Algiz X10 is a rugged 10-inch tablet computer specifically designed for use outdoors. The tablet is designed to withstand tough weather elements and drops without breaking. The tablet has a 10.1-inch screen and is ruggedized to meet IP65 requirements. The tablet also meets MIL-STD-810G for surviving dust, water, vibration, drops, extreme temperatures, and altitude. The tablet weighs 2.9 pounds and is 1.2-inches thick.
The tablet's display uses MaxView technology to make it readable outdoors, and the tablet includes a u-blox GPS receiver, Bluetooth 4.0, integrated Wi-Fi, and the tablet is Gobi 3000 ready for mobile broadband. The tablet features a five-megapixel camera with LED flash and multiple connectivity options.
The tablet has a waterproof USB port, VGA output, and RS 232 output. The processor the tablet uses is an Intel Atom N2800 dual core, and it has 4 GB of RAM. The tablet uses an SSD of unspecified capacity for storage, is designed to run Windows 7 Ultimate, and is Windows 8 ready. The tablet will ship in January of 2013 at an unspecified price.