Alfa Romeo unveils 4C Spider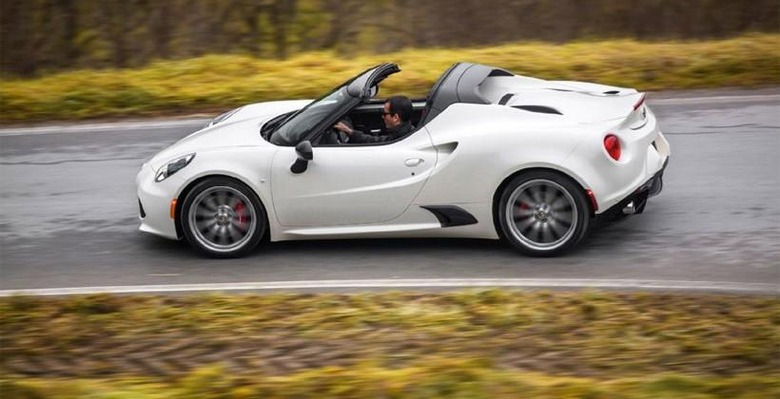 Alfa Romeo has rolled out a new version of its sexy sports car called the 4C. When the 4C first launched it was a coupe only and the new version of the car is a Spider. It is a targa top more than a full on convertible with a roof section that appears to be made of cloth of some sort that can be removed when you want to let the sun in. A carbon fiber hard top is available as well.
The 4C Spider does gain a bit of weight compared to the coupe version of the car. The weight gain is slight at about 22 pounds. The Spider has the same carbon fiber and aluminum construction and uses the same mid-mounted 1.7L direct injection turbocharged four-cylinder engine the coupe features.
Alfa claims that the Spider version of the car can reach 60mph from a stop in 4.1 seconds and can pull 1.1g in lateral acceleration. Alfa will fit the 4C Spider with paddle shifters that features driver selectable modes. A track package will also be included along with the manual steering that the coupe gets.
The Spider does get one feature that the coupe lacks: an Akrapovic dual-mode exhaust system with a pair of center mounted tailpipes and a dual mode exhaust valve. A standard exhaust system will be available as well as a racing exhaust. Opening and closing the top is an automatic proposition. The top can apparently be opened or closed at any speed; you don't have to stop to let in the sun as you do with normal convertibles. The new 4C Spider will land in the US this summer.
SOURCE: Motortrenc