Alcatel's New Flip Phone Has 4G LTE And Google Assistant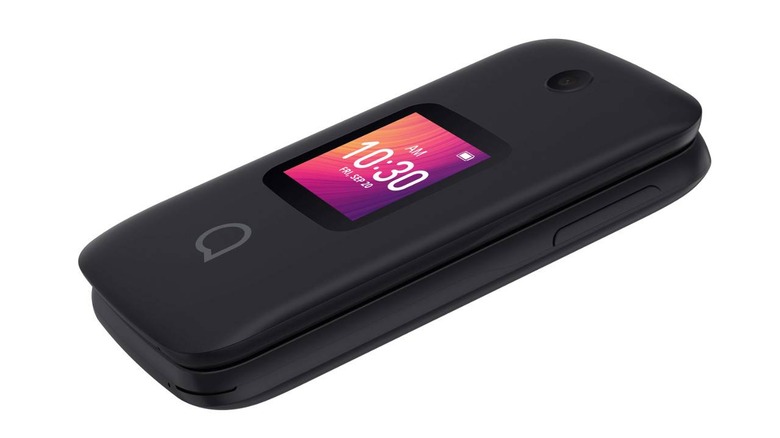 In this age of $1000+ flagship phones with three or four cameras and displays that can read your fingerprint, it isn't often we find ourselves talking about flip phones. Alcatel gave us reason to do just that today in launching Go Flip 3, which will also be known as the Smartflip depending on the carrier you buy it from. For the most part, the Go Flip 3 is a bog standard flip phone, but it has two features that elevate its otherwise basic capability.
Specifically, the Go Flip 3 has been outfitted with 4G LTE functionality, a rarity in a basic phone like this. While it won't do everything a smartphone can, that mobile data connection means that you'll be able to do things like check your email and update your calendar. It also means that the phone can leverage features like HD voice and Google Maps navigation.
In addition to 4G LTE, these two phones also boast Google Assistant functionality. By pressing a button on the phone, you can summon Google Assistant and have it do a variety of tasks, from placing calls to dictating texts and asking for directions. While it's certainly surprising to see a flip phone with 4G LTE capabilities, it's even more surprising to see one with Google Assistant.
The rest of the hardware in this device is more or less standard fare for a flip phone. You'll have a 2.8-inch 320x240 display at your disposal, along with a Snapdragon 210 processor under the hood. That processor is paired with 512MB of RAM and 4GB of storage, though the Go Flip 3 also supports microSD cards up to 32GB. Finally, both phones use Alcatel's KaiOS 2.5 and have a 1,350mAh battery.
The Go Flip 3 will be available through Metro by T-Mobile while the Smartflip will be available at both AT&T and Cricket Wireless. Strangely enough, the spec sheet for the Go Flip 3 says that it offers mobile hotspot for up to 8 devices, while the spec sheet for the Smartflip says such capability isn't included, making mobile hotspot one of the few differences between the two devices. In any case, both phones are launching at their respective carriers on September 27th.