Alcatel PLUS 12 Windows 2-in-1 puts LTE in the keyboard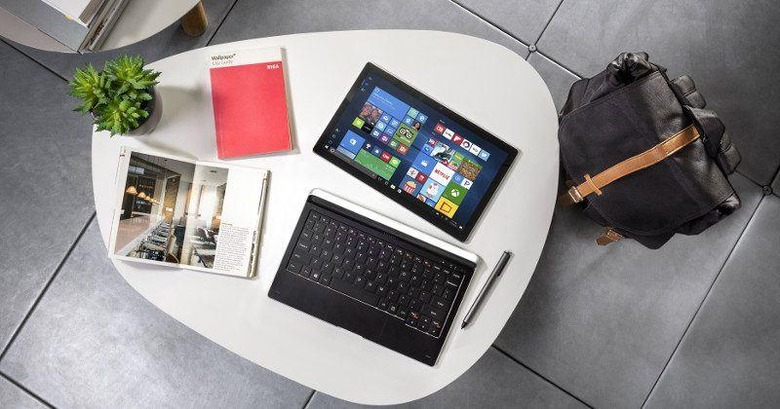 Windows 10 tablets, be it detachable 2-in-1s or convertibles are becoming more common that it's getting harder to stand out from the crowd. You can try to compete in specs or price but, chances are, you won't be alone for long. Just like with the LED-covered A5 LED, Alcatel might have an ace up its sleeve with the PLUS 12 Windows 10 tablet. It is one of the few of its kind that comes with 4G LTE support but there's a catch. That LTE connection doesn't come from the tablet itself but from the detachable keyboard.
You're probably wondering how that will work if the tablet isn't attached to the keyboard. Here's the trick to the Alcatel PLUS 12's smoke and mirrors: the keyboard is actually a Wi-Fi hotspot. The tablet half of the PLUS 12 gets its data via Wi-Fi, even when it is docked. The keyboard also has its own 2,850 mAh battery to power the hotspot, which can then provide Internet connection for up to 15 devices.
Don't let the 12-inch size fool you. This is no Microsoft Surface Pro or Samsung Galaxy Book competitor. It could give the Surface 3 a run for its money, but that's a nearly 2 year old device. The Alcatel PLUS 12 runs on an Intel Celeron N3350 and has 4 GB of RAM and 32 GB of storage. The screen resolution is capped at 1920x1080. All of this is powered by a 6,900 mAh battery. The press photos suggest that an active stylus is included, though no mention of it is made anywhere.
Alcatel has yet to announce availability details, especially the price. But given Alcatel's usual pattern and the device's specs, the PLUS 12 and its talented keyboard isn't probably going to cost as much.
SOURCE: Alcatel