Alcatel One Touch T10 takes on the iPad mini (before it exists)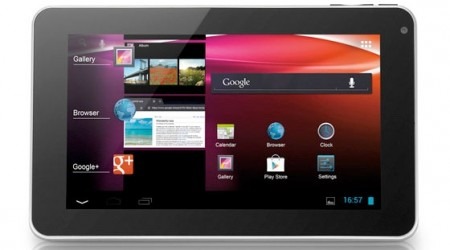 You may not be too familiar with a company called Alcatel — they mostly specialize in lower-quality mobile phones. However, they're looking to take on Apple's iPad Mini (before it even exists) with a budget tablet of their own. The One Touch T10 is a 7-inch tablet that runs Android 4.0 Ice Cream Sandwich. However, if it's going to challenge the iPad Mini in any way, it better come with some mean specs.
Unfortunately, that's where the T10 may come up short. It comes with a 1GHz Rockchip ARM Cortex-A8 single-core processor, 1GB of RAM, a 0.3 front-facing camera, only 4GB of internal storage, and a lowly 800x480 display. Then again, a microSD card slot is included that supports up to 32GB of additional storage. There's also an HDMI-out port, along with the usual headphone jack and microUSB port.
Obviously, we don't know what the iPad Mini's specs are yet, so we can't really do a comparison of any kind, but you can bet that the iPad Mini's inevitable Retina display alone might blow the T10 out of the water. Then again, the price is something that needs to be considered. The T10 is expected to go on sale in Europe soon for 120 euros, which is a little over $150.
We're not sure yet if we'll see this new tablet from Alcatel hit the States, but if it does, there will be a good chance it'll sell for less than $150 if it wants to compete with the likes of other Android tablets currently on the market, as well as Apple's rumored iPad Mini.
[via Liliputing]