Alcatel Idol 4S Windows 10 phone lands at Microsoft Store unlocked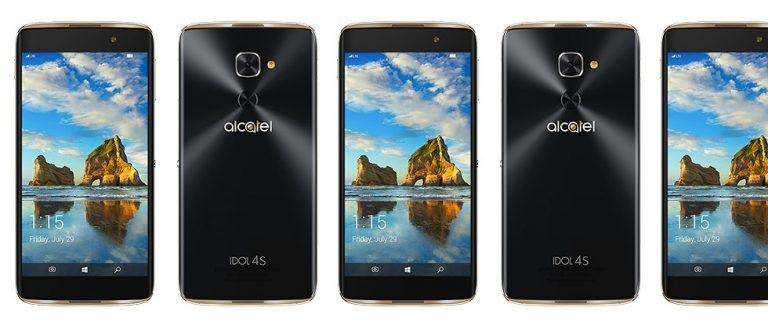 A couple of months after arriving at T-Mobile, the Alcatel Idol 4S has landed at select Microsoft Stores across the US and Canada. In a world where Windows on phones is becoming more and more rare, Alcatel has outfitted its Idol 4S with Windows 10, making it VR compatible to boot. The version arriving at Microsoft Stores today is unlocked, and should work on any GSM network in the US and Canada.
For $470, you can swing by a Microsoft Store and pick up one of these for yourself. The Idol 4S has a 5.5-inch display outputting at 1080p and a Snapdragon 820 SoC running the show. It also has 4GB of RAM – an increasingly common sight in smartphones these days – and a 21MP rear facing autofocus camera.
With Windows 10 along for the ride, that means a number of features like Cortana and Windows Hello, which uses the fingerprint scanner for biometric authentication. Virtual reality is also a big focus with this release, and each Idol 4S comes with a pair of Alcatel VR goggles in the box. It may not be the best phone around, but that still seems like a fairly solid deal for $470.
It's interesting that Alcatel decided to release a version of the Idol 4S with Windows 10. Microsoft itself has been moving away from its mobile ambitions, or – at the very least – it's come to terms with the notion that Windows Phones probably won't become commercially viable in the face of heated competition from Android and iOS. As a result, we've seen fewer manufacturers opt to release Windows Phones of their own, though Alcatel is one of the exceptions here.
Of course, Alcatel isn't throwing all of its weight behind Windows with this phone. There's also a version of the Idol 4S running Android, which is available unlocked as well. Having an Android counterpart is probably for the best, because opting for Windows alone likely wouldn't have translated to many sales. In any case, the Idol 4S with Windows 10 should be available at Microsoft Stores starting today, so if it sounds like your kind of phone, have at it.