AirTV set-top box tipped to bring local OTA channels to Sling TV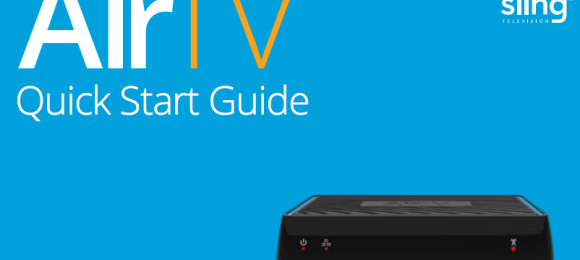 Sling TV will soon include local TV channels acquired through a new set-top box and antenna setup called "AirTV," according to a new report. The set-top box would help solve a big problem for Sling TV and streaming live-TV services like it — regional affiliates of national networks like CBS and ABC, and the troubles that come with providing those local channels — and their advertisements — over the Internet.
It's not impossible to negotiate deals with such affiliates, but it is costly and time consuming, and has so far proven to be the Achilles heel of the streaming live TV market. Sling TV has apparently come up with a simpler way to get around this issue — a box that will use an antenna to capture the over-the-air television channels available in one's region, packing them in with the streaming channels offered by Sling.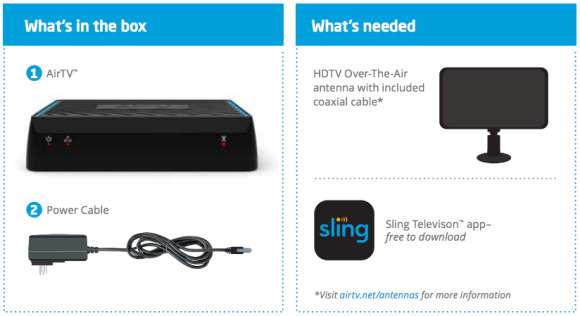 As shown in the image above, the AirTV set-top box would be offered to subscribers with an HDTV OTA antenna and coaxial cable. Set it all up, and boom!. You now have what Sling calls "AirTV." The AirTV set-top box is said to be a slightly modified Slingbox that connects to a home network over Ethernet or WiFi and brings the local OTA channels directly to Sling — it's not clear how exactly it will do this, though.
Whether the local OTA channels would be mixed in with the Sling TV channel guide isn't known; Zatz Not Funny! cites a source who claims Sling Media is "preparing multiple non-traditional Slingbox products" that could offer expanded functionality. Of course, AirTV would be dependent on one's OTA reception quality — those who live near big cities shouldn't have an issue, but others who are in more rural places may not be able to pick up many — if any — channels.
It isn't clear at this point when AirTV will be made available, nor how much it will cost. It does raise the question of how big content partners will view the move, though.
SOURCE: Zatz Not Funny!