AirPort Express gets upgrade - now with faster 802.11n speeds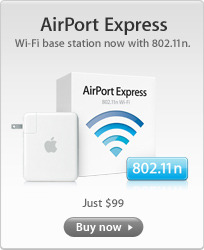 For $99 you can pick yourself up one of the worlds smallest mobile base stations for a wireless network. The best part is it now uses WiFi n to move all that data around wirelessly.
That does two things; first, it makes the unit compatible with all major 802.11 networks, and second it boosts the speed and extends the range. In fact it extends the range to twice what it previously was and ups the speed to 5 times what it was prior to the upgrade.
It also works with AirTunes allowing you to stream iTunes music wirelessly to anywhere in the house. It supports WPA, WPA2, and 128-bit WEP wireless security protocols as well. Its available now from the online Apple store, and if its not at your local Apple store, it will be soon for the low price of $99.
[via Apple]