Airbus Creates ACH130 Aston Martin Edition helicopter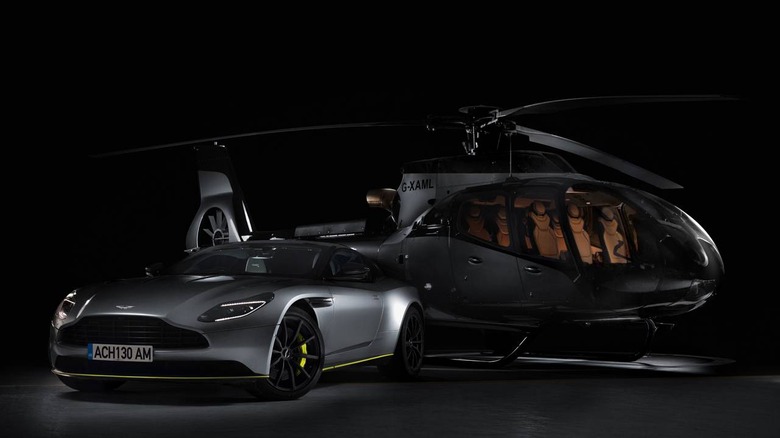 Airbus and Aston Martin have teamed up on a very cool helicopter aimed at corporations and the uber-rich. The helicopter is the ACH130 Aston Martin Edition, and four unique Aston Martin signature designs will be offered. The helicopter can be fitted with four interior and exterior designs that are generated by Aston Martin.
Airbus says that the special edition helicopter will delight helicopter owners and pilots who appreciate the pleasures of possessing and driving high-performance bespoke luxury cars. Airbus and Aston have worked together for more than a year to merge the ACH key values of excellence, quality, and service with the commitment Aston has to beauty, handcrafting, and automotive art.
The result is what Aston Martin calls a new level of aesthetics and rigorous attention to detail being brought to the helicopter market. The seats inside the helicopter have the Aston Martin wings on them. The helicopter in the images is a Stirling Green external theme with a painted gradient that fades to Jet Black on the underside of the helicopter with Skyfall Silver around the cowlings.
Other paint schemes use Xenon Grey, Arizona, or Ultramarine Black exteriors. The cabin is trimmed in pure black ultra-suede with a pallet of leather options, including Oxford Tan, Pure Black, Cormorant, and Ivory. The rear of the front seats has the same brogue detailing found in the DB11 down the center of the seat.
The doors are trimmed with leather as well. Each helicopter has a dash plaque with the logos of Airbus and Aston Martin. The dash plaque can have the owner's name if they choose. The ACH130 Aston Martin Edition is available on request with delivery starting in Q1 2020. We don't know pricing for the ACH130 Aston Martin Edition, but an Airbus H130 starts at $3.3 million new.