Airblock is a programmable modular drone for fun, learning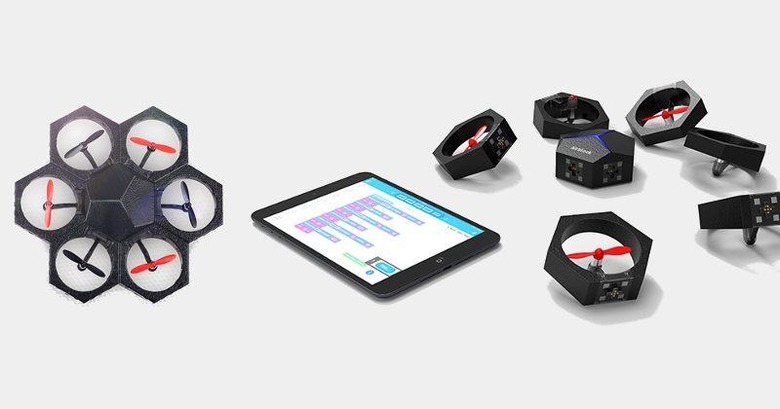 Most consumer drones can be found on two extremes. On one end, you've got sturdy, professional drones that cost hundreds of dollars. On the other end, you've got simple toys that won't make you cry when they break but offer little else besides doing a few flips and flops. Drones, however, are just as, or maybe even more, interesting than robotics and can become a vehicle, pardon the pun, for both education and entertainment. Thus, the Airblock was conceived, offering a drone that's easy to assemble and disassemble and can be programmed like a real robot.
The ideas behind Airblock are admittedly nothing new, but their execution and combination in a single product is definitely unique. The drone is composed of a main module that acts as the entire setup's programmable core. The package includes 6 blade modules that you can combine any which way you like with different effects. It even has a hovercraft base so that you can transform the drone pieces into, well, a hovercraft.
Each module magnetically latches on the another, making it easy to attach and detach parts without requiring special, often dangerous tools. Electrical connectors safely and conveniently drive power to connected modules with the use of wires. Almost like custom-made LEGO parts, assembling the Airblock for one purpose or another is a piece of cake.
But that's only half the story. Unlike drones that can simply be piloted with a wireless controller, you can actually program Airblock to follow a sequence of actions. Those who have had experience with Sphero's ball robots will feel quite at home with both the concept as well as the programming environment.
The Airblock modular and programmable drone is still on Kickstarter but it has already struck with hundreds of believers that it breezed through its funding goal with 50 days to spare. A single Airblock will cost $99 (or $119 when the slots run out) and the estimated date of delivery is February next year.
VIA: Kickstarter