Affordable Memorex Blu-ray MVBD-2510 is now sub-$100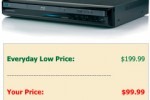 Retailed at $269, and has previously appeared on Woot for $139.99, the first generation Memorex MVBD-2510 Blu-ray player has now sank below $100. The affordable value-pack has gone cheap, partly because of the newly announced successor MVBD-2520 with profile 2.0 enabled.
The 2nd-gen Memorex will feature additional BD Live to download extra features and online bonus content, but not be here until early summer, and will cost you a penny short of $200.
At sub $100, the Memorex MVBD-2510 is worth every penny if you're seeking out a basic Bonus-View Blu-ray player. The only features that are missing from this unit are profile 2.0, 7.1 analogue out and internal decoder for DTS-MA.
[slickdeal via engadgethd]