Affinity Photo takes on Photoshop, currently in beta for OS X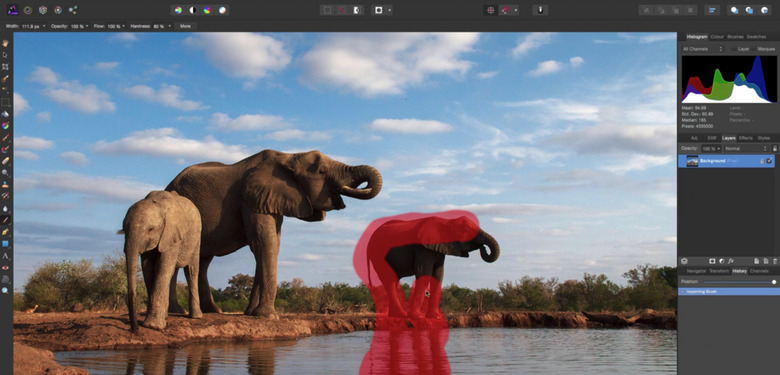 If you want to edit photos like a pro, the term 'Photoshop' has become as synonymous with doing so as 'Google' is to searching the Internet for stuff. A new editor is on the horizon, though, and it's pretty special. Affinity Photo is currently in beta, but packs a ton of Photoshop-y tools that pros and amateurs alike will find useful. It's the same team behind another very useful Photoshop tool, Affinity Designer, and packs just as much punch for photo editing as Designer did for things like vector art.
As you can see in the video below, Affinity Photo lays down the law on photo editing, and will even support PSD files and 64-bit Photoshop plug-ins.
For the pros out there, Affinity Photo can handle end-to-end CMYK, ICC color management, RAW support, and 16-bits per channel editing. After toying with it for a n evening, I found the learning curve slight when compared to Photoshop, so users who want to migrate might not find their experience so shockingly new. I won't call it a Photoshop copycat, but it does a good job of making the tool set feel more approachable for the experienced.
Affinity Photo is currently in beta, and free to check out (I've included the source below). Once it comes out of beta, the price is currently set at $49.99. That's a bit more than my current go-to, Pixelmator, but Affinity Photo also has more tools, and is a lot more like Photoshop than anything else I've tried out.
Maybe even better than a decent price tag is news that Affinity has no plans to charge a subscription charge as Photoshop does, and all updates will be free for two years. If you're using Affinity Designer, Affinity Photo will work with that software as well.
The beta os currently for OS X only, though the team reportedly has Windows in their sights as well. First, they want to create Affinity Publisher (an InDesign competitor) and iOS version of Photo, which will undoubtedly challenge Pixelmator as a cross-platform champion for Apple fans.
Source: Affinity