Aeropress Go Gives Coffee-Fans The Portability They've Been Asking For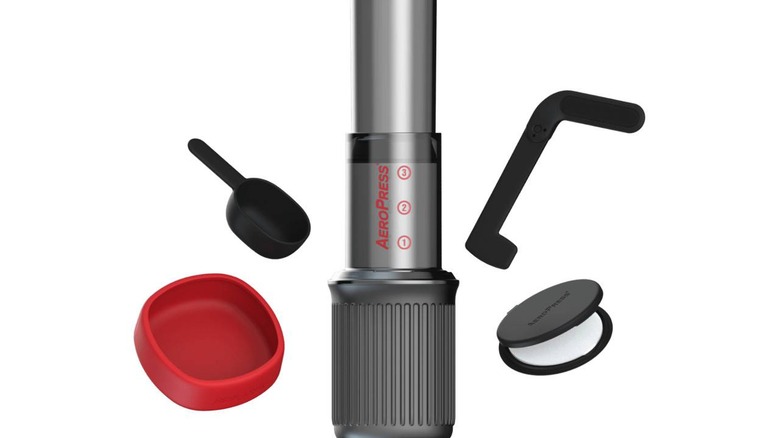 For most of us, coffee is not simply a treat but more of a reality of life. There are a variety of ways to make coffee, and one of the more popular methods is by using a french press. Aeropress took the french press idea and turned it on its head, allowing you to press a cup of coffee directly into your mug. Now, the Aeropress is getting a travel version that includes a mug, so you've got all the tools you need to make a fresh cup of coffee wherever you happen to find yourself.
Okay, you don't have all the tools you need, as you'll still to get your hands on some hot water and coffee grounds, but that's easy enough to plan for. The Aeropress Go, as it's officially called, seems like a good tool for frequent campers or hikers, as the entire device breaks down and is stored in the included travel mug.
Making a cup of coffee with the Aeropress Go seems pretty easy, all things considered. First, you'll unpack the device by removing the chamber from the mug and removing the plunger from the chamber. Then, you'll put a filter into the cap and screw the cap onto the chamber, which you'll then stand on top of the mug. From there, add a rounded scoop of coffee to the chamber using the included scoop and fill it up with water that's been heated to 170-degrees following the guidelines on the side.
Once that's done, stir the coffee for about 10 seconds and then begin pushing the plunger into the chamber, pausing momentarily when you feel resistance and then continuing until the plunger reaches the grounds. After that, you can either drink the coffee as-is for a shot of espresso or add more hot water for a full cup of coffee. You can also make cold-brew coffee by using room-temperature water during brewing and adding cold water at the end.
It sounds like a pretty handy device if you don't mind working a bit for your coffee, and it's available to pre-order now from the Aeropress website. The Aeropress Go runs $31.95 and will ship worldwide, with free shipping within the contiguous 48 states (except, strangely, for Arizona).