Adobe Report Shows Twitter Click Values And Insight Before IPO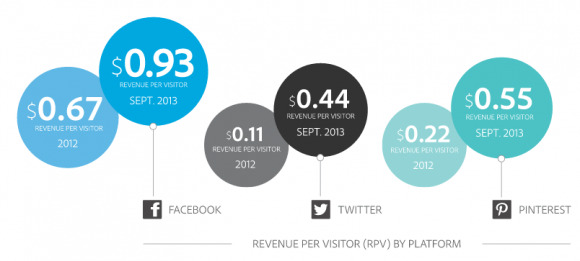 Twitter's per-click ad value has increased by 300% since last year, an Adobe report shows. In Q3 2012, revenue-generating websites earned on average $0.11 for every link click-through from Twitter; in Q3 2013, that figure was $0.44. That revenue-per-visit (RPV) is by far the highest-percentage per-click revenue growth for the period for any social network, including Facebook (39%) and Pinterest (150%). That news alone could help boost Twitter's per-share price range for tomorrow's long-awaited IPO, but the report shows even more sunny news for the company's viability as a marketing platform.
The report also shows that Twitter's RPV is undervalued by as much 134%. When you take into account originating clicks, Twitter supplies more traffic to retail sites than meets the eye. For example, if you click a link on Twitter, follow it to another site, and end up buying something at Amazon, Twitter can be said to be the real underlying cause of the resulting revenue for the company.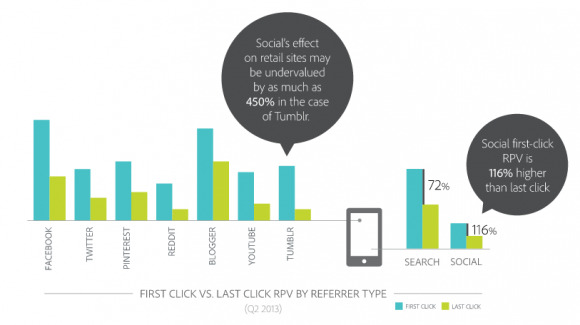 In terms of number of visits to retail websites, Twitter's growth for the year was also high. It increased by 258%. That's still far behind Facebook in terms of sheer numbers, but Twitter out-flew Facebook as far as growth is concerned in that area.
Another insight that could be important for social advertisers–not to mention investors–is that Twitter was ranked second only to Tumblr in terms of "mentions" of other users. That means users speak directly to other individual users, rather than "broadcasting" to the anonymous masses. The more engagement there is, the faster a brand name can spread. Twitter scored higher than YouTube, Facebook and blogs on this metric. Adobe calls this metric "social sentiment".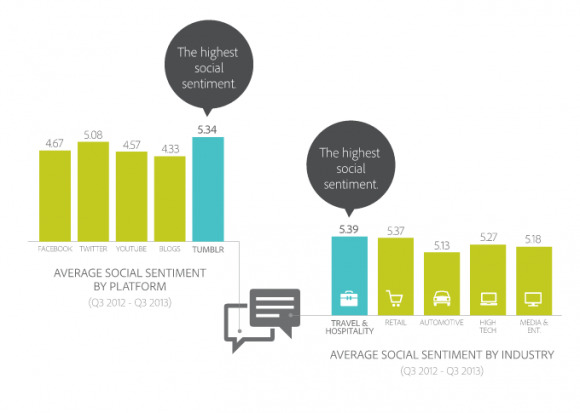 According to Reuters, Twitter's IPO will be valued between $23 and $25 per share tomorrow, or higher depending on many factors. It will offer 70 million shares–80 million if the company exercises an overallotment option. That would make for a cool $2 billion-plus influx of investment. The social advertising figures released last week (and clarified by Edelman for Adobe with SlashGear today) should play a small role in Twitter's IPO fate tomorrow for some investors.
SOURCE: Adobe (PDF)