Addonics unveils hardware SATA port multiplier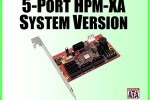 If you are the sort of computer enthusiast that has their machine crammed with hard drives and still wants more storage space for your digital files and backups, Addonics has a new product for you. The company has announced a new hardware port replicator for SATA ports that comes in two styles.
The HPM XA can be had in system versions that plugs into a PCI slot in your computer chassis or an enclosure version for connecting to SCSI enclosures and other enclosure types. Both of the versions have the same hardware capabilities.
The port multipliers can turn one SATA port into five ports that can support both optical and storage drives. The port replicators can also support RAID arrays and have an integrated buzzer to warn when there is a RAID error. The device sells for $99 in either version and works with Windows, Linux, and Mac systems.