Addonics offers up new portable Blu-ray drive with eSATA interface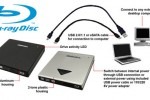 I learned the hard way when I used my netbook at CES back in January that in the business world, many people still give out information on CDs or DVDs. That is a big problem for netbook users who lack optical drives. I've also wondered a few times why users would bother with 720p capable netbooks without a Blu-ray drive.
Addonics has announced a new external Blu-ray drive that packs both USB and eSATA interfaces into a compact package. The drive is called the Pocket Blu-ray/DVDRW and the company offers a DVD only version if you don't want Blu-ray.
Addonics says they are the first external drives to use both eSATA and USB interfaces. The drives are designed to work with Windows, Mac, and Linux OS'. You can choose from plastic or aluminum enclosures and the devices can get all the power they need directly from the USB port. The Blu-ray model starts at $235, the DVD model starts at $99, and a software bundle is included.