ADATA UV310 is a sleek and waterproof metal 64GB flash drive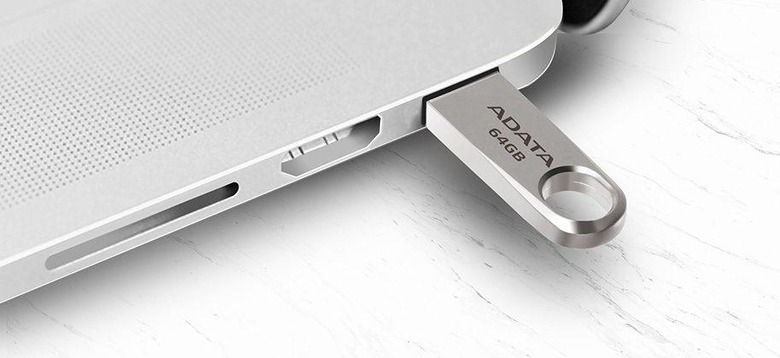 ADATA has taken the wraps off a new sleek metal USB flash drive, one featuring a shiny and durable metal design with a large open loop on the end and dark, stamped branding on the top. The drive is long and looks well when paired with any device, including high-end and aluminum laptops. The style isn't unlike what we've seen from Samsung, though it does have its own small bits of uniqueness. This joins the company's array of other, mostly less attractive, flash drive offerings.
The ADATA UV310 USB flash drive is made from a zinc alloy and it boasts a sand-blasted finish. The surface is resistant to scratches, according to ADATA, meaning its looks should hold up well even if you toss it in your bag or attach it to your keychain. The design is also made to be highly resistant to drops and shocks, as well as exposure to water and dusty places.
Despite its metal body, the flash drive is quite light with a weight of only 4.7 grams. ADATA says the seamless construction means the drive's design overall has minimized weak points, making this a better choice over plastic drives for those who are serious about protecting their data.
The drive supports USB 3.1 with a max speed of 5Gbps, according to the company, which is offering the UV310 is 16GB, 32GB, and 64GB capacities. Pricing isn't clear at this point, though if it follows in line with the company's previous products, we should expect to see the UV310 fall into the budget category.
SOURCE: Hexus