Active Media Products unveils SaberTooth ZT ZIF SSD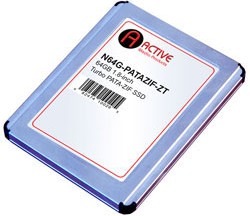 Active Media Products has all sorts of SSDs and storage devices, but most of them are aimed at use in laptops and desktops using SATA connectivity. The company has announced a new SSD product called the SaberTooth ZT Turbo ZIF SSD.
The SSD fits into devices that use a 1.8-inch IDE/PATA drive. The little SSD is 5mm thick and uses the 40-pin ZIF interface. It can be had in 32GB or 64GB capacities and promises 100MB/sec read speed and up to 85MB/sec write speeds.
The SSD uses MLC NAND and supports SMART and ECC. The drive uses bad block management to map bad bits to prevent data errors. The drive ships with a small screwdriver and install instructions and supports Windows, Linux, and Mac operating systems.