Actiontec MyWirelessTV HDMI Adapters Feature Cavium's PureVu Processors at CES 2011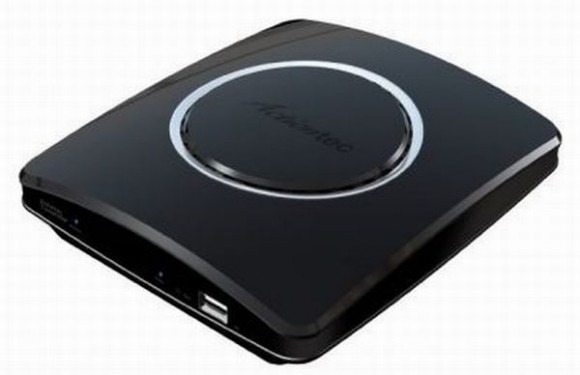 At this year's Consumer Electronics Show in Las Vegas, Cavium has officially announced a new line of HDMI wireless adapters from Actiontec that will feature Cavium's PureVu processors, and the company's WiVu wireless display technology. The result is the ability to run full 3D HD video over a standard WiFi connection.
The Actiontec MyWirelessTV wireless HDMI adapter is designed to stream full 1080p HD video over your 802.11n wireless network, to multiple displays. The displays will need to be connected to the MyWirelessTV adapter to make use of the technology, though. Thanks to the Cavium WiVu technology that's inside the adapters, they are compatible with the H.264 encoding, Dolby surround sound, HDCP 2.0 encryption, and it will be able to stream 3D video as well.
The companies say that the system has a 20ms or less latency from the source to whatever display you're streaming it to. And that's in a range of 150 feet. The adapters will be released later this year, and will come with one transmitter and one receiver. As for pricing, it's suggested that it will be around $200.
Press Release
Actiontec's MyWirelessTV™ Line of Wireless HDMI Adapters Features Cavium's PureVu™ Processors for Dynamic, Low-Latency Performance

Leveraging Cavium's WiVu™ Wireless Display Technology, Actiontec's New Adapters Enable Full 3D HD Video Transmission Over Standard Wi-Fi

CES Unveiled 2011

CES Unveiled 2011:Cavium Networks, Inc.

LAS VEGAS–(BUSINESS WIRE)–Cavium Networks (NASDAQ:CAVM), a leading provider of semiconductor products that enable intelligent processing for networking, communications and the digital home, today announced that Actiontec Electronics' new line of wireless HDMI adapters feature Cavium's PureVu™ video processors and WiVu™ wireless display technology. Known as MyWirelessTV™, this new product line from Actiontec enables pristine 1080p HD video transmission throughout the home with virtually no latency, thanks to Cavium's industry leading Super Low Latency™ (SLL) technology. With these new HDMI adapters, consumers will be able to view 2D and 3D HD content from any HDMI source on any display anywhere in the home wirelessly.

"We are very pleased with Actiontec's decision to select our PureVu video processors for its MyWirelessTV family of wireless HDMI adapters"

"When we were developing these new HDMI adapters, we chose to partner with Cavium because their team shares our vision of building innovative and differentiated products that provide the performance and ease of use that consumers demand," said Dean Chang, president and CEO at Actiontec Electronics. "Cavium demonstrated a strong commitment to accelerating our development of this product. Their team's commitment and dependability, has been an important element in this release, particularly because we're launching directly into the consumer space where time-to-market, quality, pricing and performance determine success."

Each MyWirelessTV kit consists of a transmitter and a receiver HDMI adapter. By simply connecting the transmitter device to any HDMI source, such as a Blu-Ray player, A/V receiver, STB or even a PC, users can transmit the content from that source over standard Wi-Fi and view it on any display that has a MyWirelessTV HDMI receiver adapter connected to it. Users can expand this network to include other HDMI sources and displays by simply adding more transmit or receive adapters. WiVu's ultra low compression latency, along with its unique video quality of service features enable this transmission to be provided in a multi-room environment and a fully interactive fashion.

"We are very pleased with Actiontec's decision to select our PureVu video processors for its MyWirelessTV family of wireless HDMI adapters," said Manoj Gujral, VP and GM of Cavium's Broadband and Consumer division. "Cavium's standards-based WiVu technology contains all the necessary components to address the quality, security, scalability, and cost requirements of the emerging and rapidly growing home video distribution market."