Acer's TravelMate Spin B1 notebook offers durability for students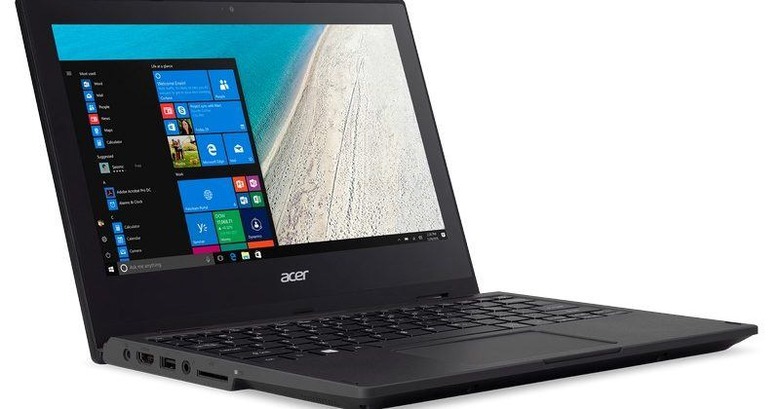 Today Acer unveiled the next entry in its TravelMate line of notebooks. The TravelMate Spin B1 is a convertible notebook that's targeted at commercial customers and students, mostly because of its ruggedness and support for Windows Ink through the included stylus. Of course, ruggedness means compromises in other areas, most notably aesthetics in this case.
Indeed, if you want a sleek and slim notebook, this probably isn't the laptop for you. If, on the other hand, you want a computer that's going to stand up to some bumps and spills, this might be more up your alley. The TravelMate Spin B1 is shock resistant thanks to its rubber frame, while the touch screen is impact resistant. The computer's Chiclet-style keyboard is protected against spills of up to 330mL of water, owing that resistance to what Acer calls a "unique gutter system" underneath.
Obviously, being a convertible, you'll be able to rotate the display into a number of different usage modes: laptop, stand, tent, and tablet. These are the standard usage modes you see with many convertibles, but the stylus and support for Windows Ink may mean that modes outside of its laptop configuration see more use. It sounds like Acer will offer models of the TravelMate Spin B1 with a standard display, so if touch screens aren't really your thing, you're covered there as well.
Acer is touting up to 13 hours of battery life for this device, and while your mileage may vary, it's easy to believe that there's a beefy battery lurking within this rather large laptop. The problem is that Acer isn't ready to talk hardware specifications just yet – instead, those will come sometime in quarter 2 2017, which is when Acer plans to launch this beast for "educational and commercial" customers.
Just as well, there aren't any details on pricing just yet. Rugged devices sometimes ship with a higher price tag than their more fragile counterparts, and we'll see if that holds true here in the coming months. For now, we're left to look at press images and wait on Acer for more details.