Acer's Swift 7 notebook is thinner than yours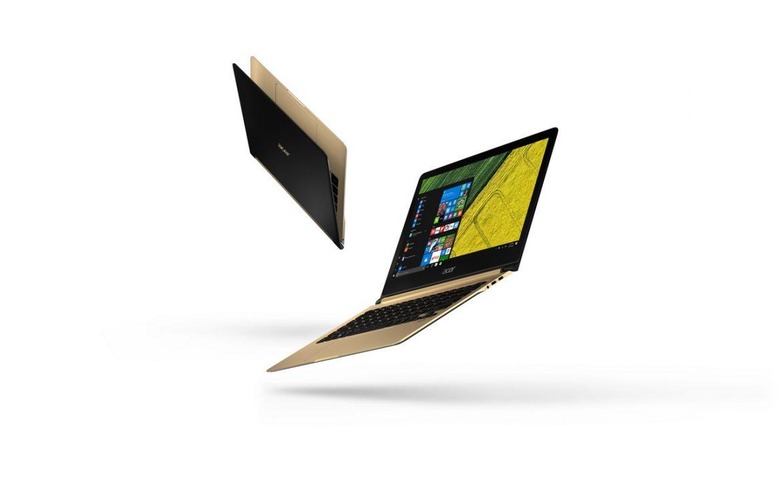 Those who are constantly on the lookout for the thinnest notebook money can buy might want to have a look at Acer's new Swift 7. Available from today, the Acer Swift 7 offers a thickness that clocks in at just 0.39-inches. It's so thin, in fact, that Acer is saying the Swift 7 is the "world's thinnest notebook."
That seems equally impressive and fragile. The first model available is the SF713-51-M90J, meaning that Acer intends to turn Swift 7 into a series of notebooks rather than just a single release. One look at the spec sheet is all you need to know that this is indeed an ultrabook, with a seventh-gen Intel Core i5-7Y54 1.2GHz running the show.
In an effort to keep things relatively snappy, that Core i5 is paired with 8GB of LPDDR3 RAM and a 256GB SSD. The Swift 7's 13.3-inch IPS display is capable of 1920x1080 resolution and it features Acer Color Intelligence, which promises "brilliant and vivid colors with less CPU loading." The whole display is outfitted with Gorilla Glass as well, adding a layer of defense against scratches and drops.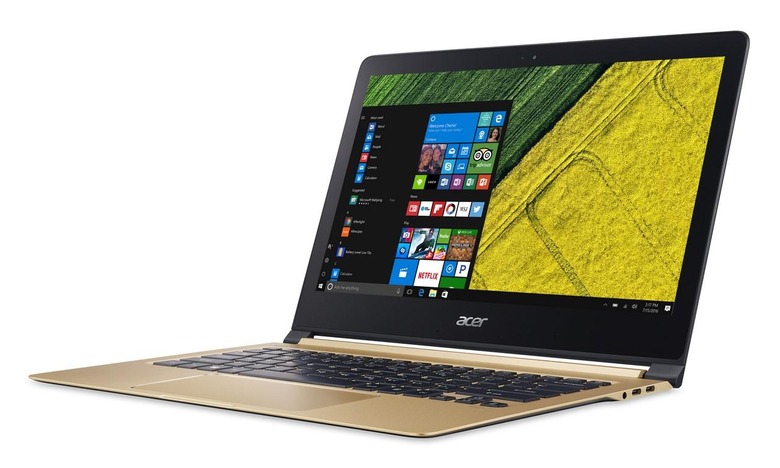 With the 2770 mAh battery this model comes packing, Acer says users can expect up to nine hours of usage from a single charge. Obviously, your mileage may vary depending on what you're doing with your Swift 7, but having the maximum life top out at 9 hours isn't too bad. The notebook is finished with a black and gold color scheme, which we imagine will look classy to some and loud to others.
Judging from the hardware list, the Swift 7 seems like it'll make a relatively solid ultrabook. Its thinness and overall weight of just 2.48 pounds, however, may mean this isn't a good buy for those who lead a rough and tumble lifestyle. If you do pick one up, you may want to take special care to make sure it doesn't get stepped on or fall victim to a drop, because it may not survive such a beating.
The Acer Swift 7 SF713-51-M90J is shipping out now in the US. Those interested in picking one up can nab one from Acer's store or a variety of different retailers including Amazon, Costco, and Best Buy. The Swift 7 SF713-51-M90J comes with a price tag of $1,099.99, and Acer says that more Swift 7 configurations will be available in the coming weeks.