Acer's new Windows 10 notebooks tote fingerprint scanners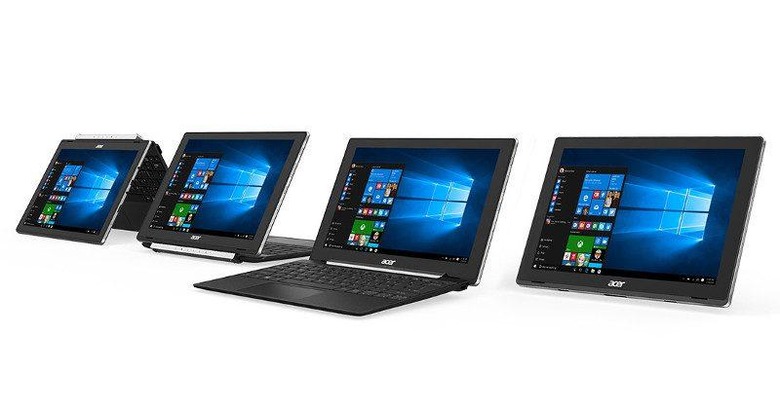 Microsoft introduced Windows Hello as the blanket term to cover its biometrics-based security system that launched together with Windows 10. While fingerprint scanners were starting to become commonplace in smartphones, few laptops, and even fewer desktops, sported such sensors. So at launch, Microsoft went with using face and iris detection to demonstrate Windows Hello. With Acer's latest Windows 10 laptops, however, Microsoft is starting to put the focus on our fingers, advertising the ability securely and quickly log into those notebooks using only your finger.
At the lowest rung of the price ladder sits the Acer Switch One 10, the "One" giving away its budget friendly character. Don't let that fool you, however, as the notebook is capable of performing many duties in many modes. Combining two predominant styles of "convertibles", the Switch One 10 can not only detach from its keyboard base, it can also be folded into the familiar notebook, pad (tablet), tent, and display modes. It has a 10-inch multi-touch HD screen and is powered by Intel's Atom processor, probably one of the last to bear the dying processor line.
The Acer Switch One 10 will arrive in North America in July with a price tag of $199, available in Metallic Gray sheen only.
A littler higher is the Acer Switch V 10. Like the Switch One 10, the V 10 model also performs multiple tasks in different forms, combining bending and detachable styles of 2-in-1 laptops. The Switch V 10, however, steps up the game with a different set of features. For example, it bears that much hyped, but also hard to get right, USB Type-C port. It boasts of dual-band MIMO 802.11ac Wi-Fi for fast wireless connections. Curiously, Acer has decided to give the Switch V 10 only 32 or 64 GB of internal storage, depending on the configuration. You can remedy that with a keyboard dock that offers 500 GB of HDD space and two full-sized USB-A ports. However, if you prefer portability, a slimmer keyboard dock is also available.
The Acer Switch V 10 goes on sale in North America in the third quarter. Available colors include Pearl White, Shale Black, Coral Red, Peacock Blue, and Navy Blue. Prices start at $249.
Last but definitely not the least in any way is the new TravelMate P Series, made up of the 14-inch TravelMate P249 and the 15.6-inch TravelMate P259, both with Full HD backlit LED displays. The series is designed for serious business but isn't as flexible as the other two in terms of form factor. It makes up for this by sporting solid hardware inside, like Intel's 6th gen Core processors and a discrete NVIDIA GeForce 940M graphics chip. DDR4 RAM can even go up to 32 GB if needed. While the keyboard is fixed, buyers can opt to go with a backlit set if preferred.
Unsurprisingly, the Acer TravelMate P249 and P259 have the highest starting prices at $599. The notebooks will launch in North America later in the fourth quarter.