Acer Veriton X270 Series Hits US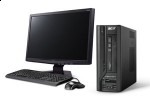 The Acer Veriton X270 Series of desktop PCs has been around for quite awhile but they are just now available to the US market according to an announcement from the company this morning. Intended for the business market, these PCs should make quite an impact when it comes to affordable computer options.
The X270 Series features small PCs with an array of processor options, one of which is the Intel Core 2 Duo. The NVIDIA GeForce 7100 chipset makes HD video watching possible and there's the option of a 500GB SATA HDD. Memory can be amped up to 4GB of DDR2 RAM and the nine USB 2.0 ports make connecting all of your peripherals a snap.
Also included is an HDMI port, 5.1 audio support, PCI Express x16 slot, 2-PCI 2.3 ports, a PCI Express x1 slot, Ethernet, and a DVD writer with a disc-labeling tech called LabelFlash. These are really great little business computers that offer quite a bit more than you need for word processing but still stay in the realm of professional. You can get the Acer Veriton X270 series desktop PCs now for prices starting at $399.
[via eWeek]