Acer TravelMate X313 Convertible Ultrabook Review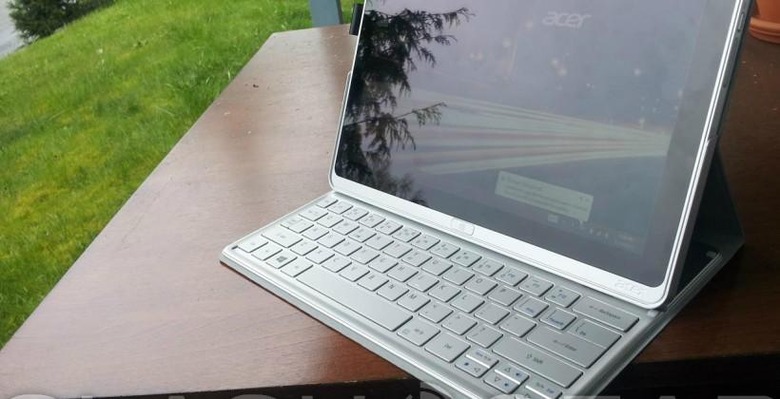 Acer has introduced a new ultrabook, the hybrid laptop/tablet TravelMate X313. With this device comes a removable tablet component with an accompanying keyboard-equipped case, allowing users to pop the main computing unit from the rest of the device and use it while on the go or lounging around for the evening. We've given the TravelMate X313 a solid run; check out what we found in our full SlashGear review.
Hardware
The TravelMate X313 has a 10-point multi-touch 11.6-inch IPS display with 170-degree viewing angles and a 1366 x 769 pixel resolution; the device measures in at 0.39-inches thick, with a total weight of 1.74lbs. Under the hood, users will find an Intel Core i5-3339Y and Intel HD Graphics 4000, 4GB of RAM, and 120GB of SSD storage space. Rounding it out is Dolby Home Theater V4 with dual stereo speakers.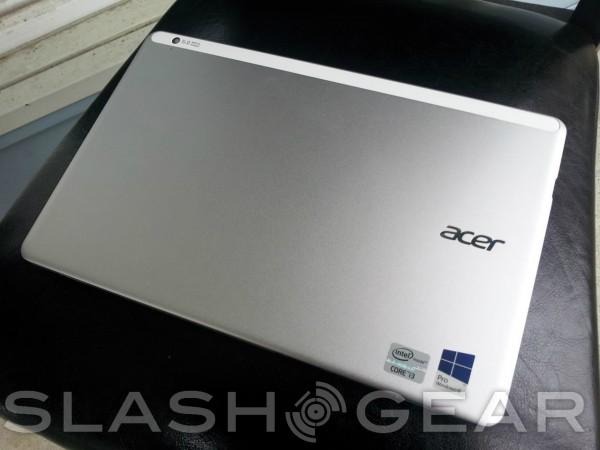 The tablet portion is equipped with two webcams: an Acer Crystal Eye HD with a 720p HD resolution on the front, and a rear 5MP 1080p HD camera for slightly better quality. Rounding it out is an HDMI port for video/audio out, as well as a USB port and an audio jack. As far as connectivity goes, the TravelMate has Bluetooth 4.0 + HS and 2.1+EDR, as well as WiFi 802.11 a/b/g/n.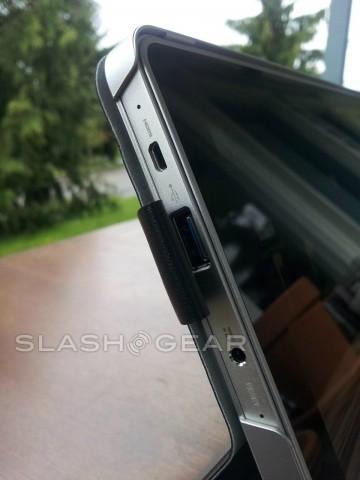 The tablet portion is made of brushed aluminum on the back and along the edges, with smooth black bezels around the display. The tablet is very sleek in design, even if the empty space around the screen is a bit excessive. The display is scratch-resistant, and it is design to withstand reasonable shocks, vibration, temperature extremes, and acoustic noise.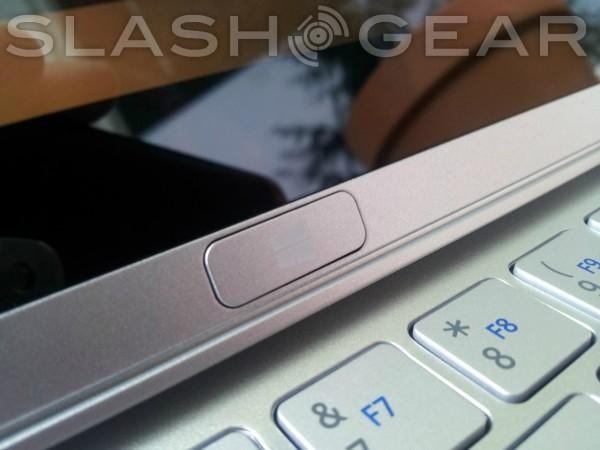 Case
The case is rectangular in shape and covered with a leather-like material, with one half of the case being fitted with a keyboard and the other half with an aluminum frame. The case itself is lightweight and stays shut fairly well, offering both a slot for a stylus and a power button on the corner. There is a deep groove above the keyboard, which is where the tablet portion is placed to form a laptop-esque shape.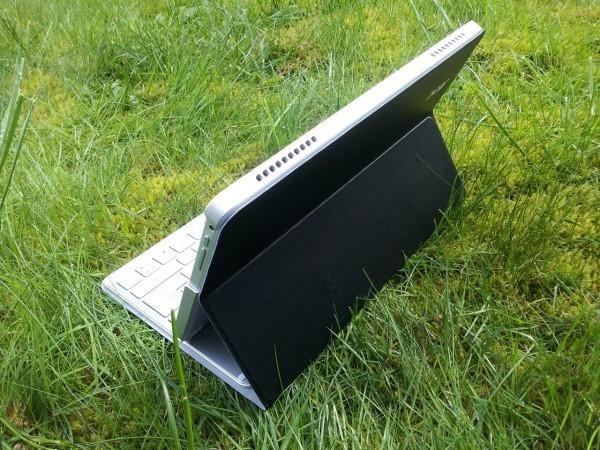 The keyboard is a low-profile chiclet style offering, and while it is certainly something that can be used to type a long work — a research paper, let's say — it doesn't feel terribly comfortable at first. If you use it long enough, you will conform to the key feel, as with any, but it will never feel particularly solid, and might be hard for some to adjust to. In addition, the keyboard is bendable — it will flex easily — and the tablet portion merely sits in the groove, meaning it must be on a flat surface to be stable.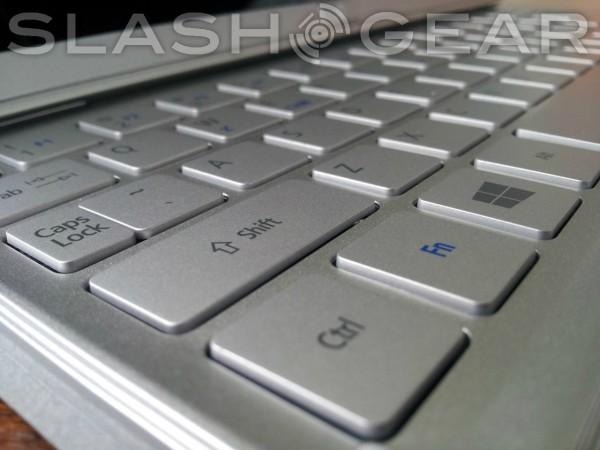 The metal is the same brushed aluminum found on the sides and back of the tablet portion. When closed, a slight groove in the edging helps it stay closed, though there are no magnets or other aids to keep it shut. Overall, it is solid as far as keyboard cases go, and those familiar with this type of product will find it adequate for the needs of a convertible user.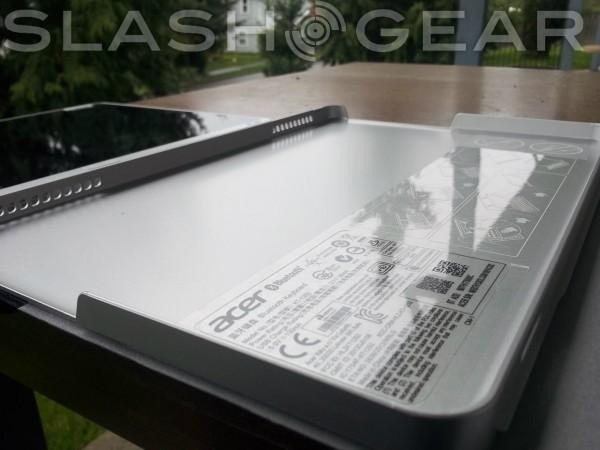 Software
The newest TravelMate is loaded with Windows 8 Pro, which runs smoothly on the machine. Internet Explorer did bog down immediately upon launch, and got "stuck" a couple times while trying to navigate. Of course, that is likely the result of Internet Explorer itself and not the system. Other software on the machine ran smoothly.
As with other laptops we've reviewed, we ran Geekbench benchmarks on the hybrid, and it scored decently enough: you're not going to be using it for anything intensive, like 3D gaming, but for what it is, the tablet is powerful enough to meet the average user's needs.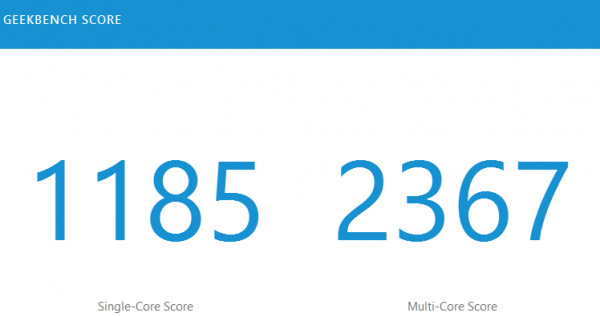 Wrap-Up
Overall, the Acer TravelMate X313 is a solid device, as far as convertible ultrabooks go. As with others of this nature, those who are unfamiliar with this type of hybrid device might find it uncomfortable due to the loose nature of the unit: it is very top heavy, with a flexing keyboard and, due to being propped up only on the fabric cover, it will feel unstable unless you have it on a solid flat surface, like a desktop or table.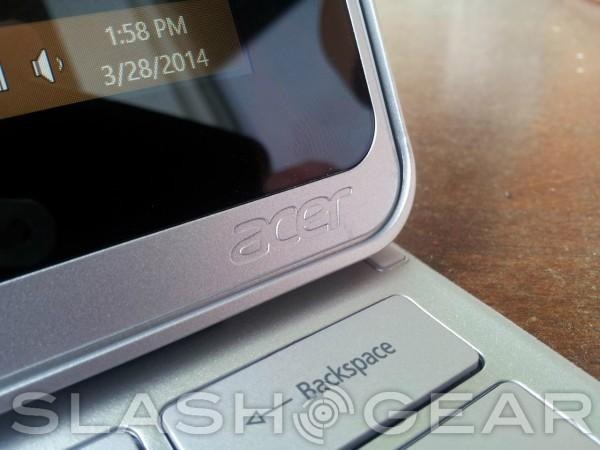 If you're looking for a convertible system that will primarily be used as a tablet, but that comes with a case in which it can be wrapped and a keyboard for the occasional typing session on a table or desk, the TravelMate X313 is a solid choice. If, however, you're looking for a convertible that will double as a laptop replacement, you'd likely find this particular Acer frustrating and inadequate for that purpose.