Acer targets students with Chromebook C871 and new TravelMates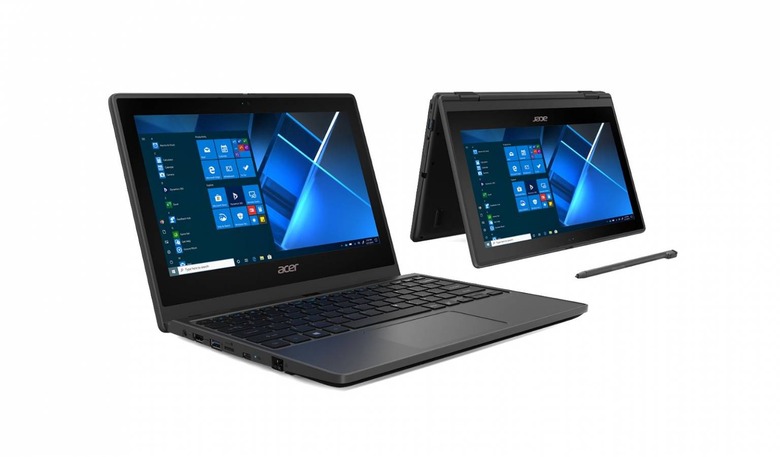 Acer showed up to the BETT show in London with a handful of new products aimed at students today. The first is a new 12-inch Chromebook, which is joined by a pair of new TravelMate Windows laptops. While they may not do much to excite Acer's regular customers, we could very well see these notebooks show up in classrooms after they release this year.
Acer Chromebook C871
The Acer Chromebook C871 – which will also apparently be known as the Chromebook 712 – has a 12-inch display with a more-uncommonly seen aspect ratio of 3:2. Acer says that this aspect ratio will help with vertical viewing and improve productivity among students, presumably because it allows more to fit on a page before students need to scroll. The display's resolution maxes out at 1366 x 912, with touch-enabled (C871T) and standard options (C871).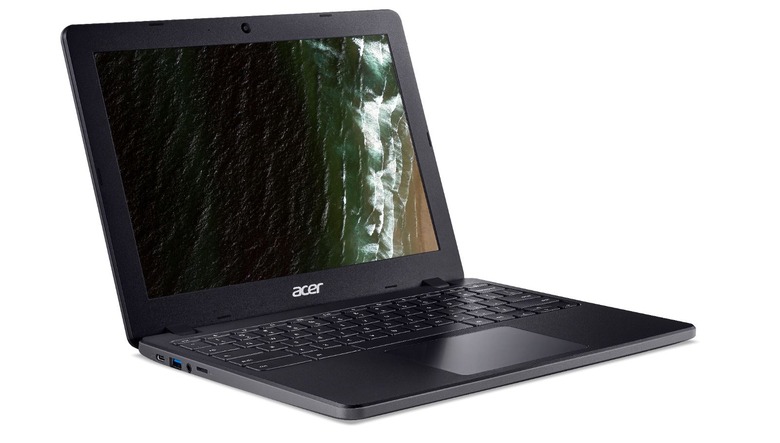 On the inside, Acer says that the Chromebook C871 will be built around the Core i3-10110U processor from Intel, though there's also the option for a Pentium Gold 6405U or a Celeron 5205U. Those processors will be paired with either 4GB or 8GB of DDR4 RAM. With either 32GB or 64GB of eMMC storage, that's a little on the underwhelming side, but Acer does say that the Chromebook's 48Wh battery will last for as long as 12 hours.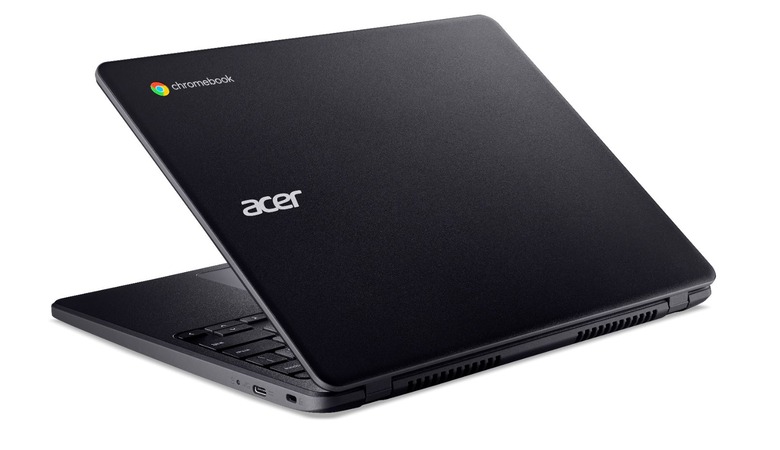 Connectivity options include one USB-C port that supports USB 3.2 Gen 1, charging, and DisplayPort over USB-C; a further two USB-C ports; one USB 3.0 port; a microSD slot; and a 3.5mm headphone jack that supports headsets with a built-in mic. Perhaps the key feature of this Chromebook is its MIL-STD 810G certification for high and low temperatures, rain, humidity, vibration, mechanical shock, and sand and dust. Acer says the Chromebook C871 can also withstand 132 pounds of downward force, so it can probably take a beating from younger students.
Acer TravelMate Spin B3
Joining the Chromebook reveal is the Acer TravelMate Spin B3 and the more traditional clamshell B3. As the name suggests, the Spin B3 is a convertible notebook, and Acer says it's specifically targeting the K-12 market with this one. Both notebooks have an 11.6-inch display, and while the Spin B3 goes up to 1080p resolution, the standard B3 is limited to 1366 x 768.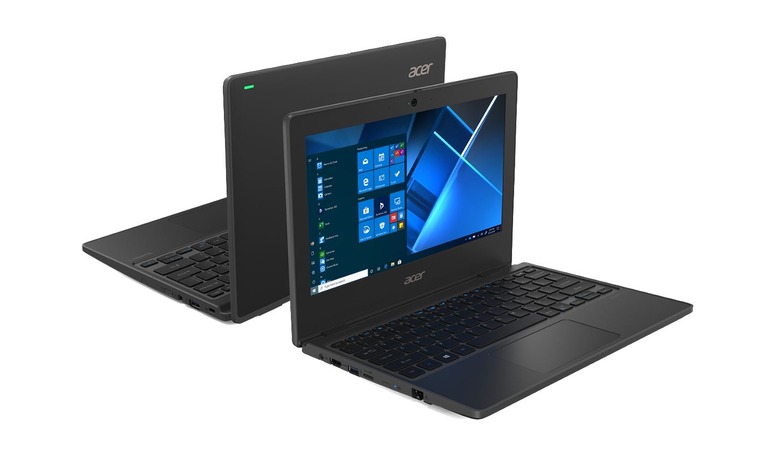 In both cases, schools will have the choice of Intel Celeron or Intel Pentium Silver processors with either 4GB or 8GB of RAM. As far as storage is concerned, here we actually see an upgrade over the Chromebook C871, as Acer is offering NVMe and eMMC SSDs with options that go up to 256GB. Like the Chromebook, we've also got MIL-STD 810G certification in the new TravelMates, along with a 48Wh battery that can last for up to 12 hours.
Wrap-Up
So, there are a lot of similarities between the Chromebook C871 and these new TravelMates, from internal hardware to the fact that they aren't really made for regular consumers. The main difference between the two seems to be that the Chromebook C871 is running Chrome OS while both TravelMate models are running Windows 10.
We'll see the Chromebook C871 launch in March with a starting price of $329.99 that will obviously go up depending on configuration. The pair of new TravelMate models will be landing in April, with the Spin B3 starting at $329 and the standard B3 starting at $239.