Acer Spin notebook series offers a dizzying array of choices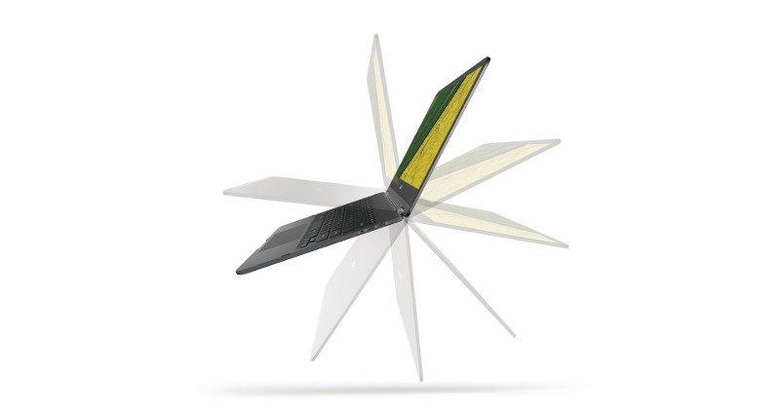 Leave it to Acer to flood IFA 2016 with a wide assortment of consumer devices, including, of course, Windows 10 laptops. With a naming convention that seems to defy logic, the new Spin notebooks have something to offer for every member of the family and for every computing use case, from the sleek and premium-looking Spin 7, down to the more portable Spin 1 fit for students. At least the "Spin" name isn't just for show, as all notebooks transform from laptop to tablet in no time flat.
Truth be told, it's a bit difficult to correlate the Acer Spin's model numbers to their features, as one model might have a special feature that a higher model doesn't have. Acer does, however, want you to see these notebooks in a tiered system, with the Spin 7 at the very top as its flagship configuration and the Spin 1 below as the entry-level model. But perhaps it's also easier to match their names with the Intel processors they support.
The Acer Spin 7 gets the best of the best CPU, with a 7th gen Intel Core i7. Yes, the new Kaby Lake processors that were just unveiled. Complementing this is a capacity for up to 8 GB of DDR4 RAM and 256 GB SSD storage. The 14-inch Full HD display comes with 10-point touch support. and Gorilla Glass 4. A mixed bag of specs, the Spin 7 boasts of the most premium build quality among the four, all metal and with a thin 10.98 mm profile.
The Acer Spin 5, as you might have guessed, sports an Intel Core i5 but can also go with a Core i3. While the screen is smaller at 13.3 inches, it still has the same 10-point touch Full HD features. And although it's theoretically a lower model, it gets a bit of a boost when it comes to memory, up 16 GB of DDR4 RAM and 512 GB SSD storage.
Things actually get even messier with the Acer Spin 3, which actually gets the Core i3 plus the i5, the i7, and Pentium as well as Celeron processors. The choices don't end there either. Buyers can choose between a Full HD or just an HD 10-point touch screen, both 15.6 inches on the diagonal. It supports up to 12 GB of RAM and a dual storage system of up to 256 GB SSD and 1 TB HDD. The Spin 3 gets this many configurations because Acer is trying to market the device as something that can be used for both work and play, depending on the user's needs.
And finally, the Acer Spin 1 gets an Intel Celeron processor (as there isn't a Core i1) and up to 8 GB of DDR3L, not DDR4, RAM. It also has a dual storage system but one where you get an eMMC class internal storage up to 64 GB and HDD up to 1 TB. While you do get the same choice of FHD or HD displays, the 11.6-inch screen curiously doesn't mention any touch capacity.
Availability of the Acer Spin notebook series is as follows:
• Acer Spin 7 – October (North America) for $1,199, October (EMEA) for 1,299 EUR
• Acer Spin 5 – October (North America) for $599, September (EMEA) for 599 EUR
• Acer Spin 3 – October (North America) for $499, September (EMEA) for 599 EUR
• Acer Spin 1 – December (North America) for $249, November (EMEA) for 299 EUR