Acer S7 Ultrabook reboot brings Haswell, battery life, and a new keyboard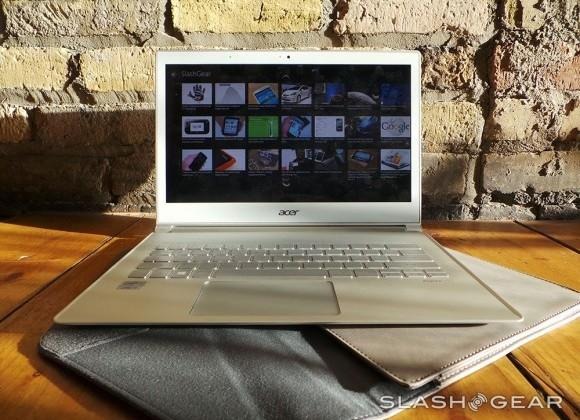 In June, Acer's Aspire S7 Ultrabook reboot was unveiled, bringing with it fourth-generation Intel Core processors and some other new features. At the time, Acer stated the laptops would be shipping out in the third quarter of this year, with pricing and some additional details surfacing around the same time. Such was the case this evening, with the company announcing pricing and availability.
The lower end Acer Aspire S7-392 (model 6832) is priced at $1,499 USD and features a fourth-generation Intel Core i5-4200U 1.6GHz processor featuring Turbo Boost tech up to 2.6GHz. There's 8GB of DDR3 dual-channel RAM, as well as a 128GB solid-state drive. The laptop runs Windows 8 and there's support for the operating system's gestures, among other things.
The higher end Aspire S7-392 (model 9890) features similar specifications, running a more powerful fourth-generation Intel Core i7-4500U 1.8GHz processor with Turbo Boost tech and 8GB of DDR3 dual-channel RAM. There's a 256GB solid-state drive, and the price tag reflects these changes with a price tag of $1,699 USD.
Both ultrabooks feature a 13.3-inch Full HD touchscreen display, as well as a thickness of 0.51-inches and a weight of 2.87lbs. The laptop's cover is crafted with white Gorilla Glass 2 for durability and scratch resistance. Both likewise feature a Full HD integrated webcam. The keyboards have "deeper" keystrokes, the fan is quieter thanks to a second-generation Twin Air Cooling Technology, and the battery life has received a 33-percent boost. The higher end model also offers a "light-sensing" backlit keyboard with auto adjustments.
We reviewed the previous-generation of the Acer Aspire S7 back in November, which you can check out to get an idea of what goes into the machine. Acer says that some of its retail partners currently have the ultrabooks in stock, and we're guessing that means other retailers should be showing them as available in the very near future.