Acer Predator G5910 gaming desktop debuts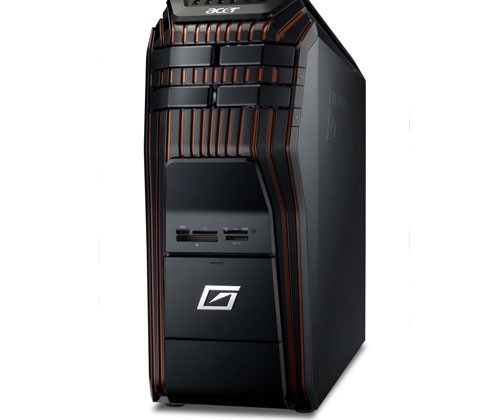 Acer has been offering up quite a few new notebooks recently with a pair of new
for the US getting detailed yesterday. If you aren't the notebook type Acer also has a cool new desktop computer that you might find interesting aimed at gamers and enthusiasts. The new gaming desktop is the Predator G5910 and it has a lot of options on the hardware side. Buyers can opt for Intel Core i5 processors up to the i5-2500 and Core i7 up to the i7-2600.
The machine can be tuned by the user with the Intel Extreme Tuning Utility and it uses the Intel P67 Express chipset. The desktop can be crammed full of up to 16GB of DDR3 1333MHz RAM and it can hold up to four SATA HDDs at up to 2TB each and it has a pair of 3.5-inch hot swap drive bays as well. The computer can also be fitted with a Blu-ray burner or other optical disc drive.
The machine has a memory card reader and has a discrete graphics card. Graphics card options include various cards from NVIDIA or AMD and with the right video card option; the Predator G5910 is NVIDIA 3D Vision capable. The machine also comes with a wired LAN port, WiFi, front IO ports, three internal PCIe 2.0 slots, and lots more. The Predator G5910 will be available in the middle of July for £599 in the UK including VAT.