Acer Predator AG5900 Review
We've had our fair share of beastly desktops on the SlashGear test bench, but the Acer Predator AG5900-U3092 probably has the most distinctive design. Etched with bright orange pinstripes, the new Predator is pretty striking for its internal components too: an Intel Core i7 chip, fast ATI graphics and more. Check out the full SlashGear review of this $1,350 gaming PC after the cut.
Acer's Predator range has been through a few iterations now, each putting high-end hardware into an eye-catching case and promising a generally budget-friendly alternative to rival machines from Alienware and others. The AG5900-U3092 is a little less eye-searing in its color scheme – previous Predators have been all-orange, with shifting drive bay panels and odd mechanical flaps – but it's still solidly made and has a little theater in its design. The DVD burner, for instance, opens up like a Predator's mouth.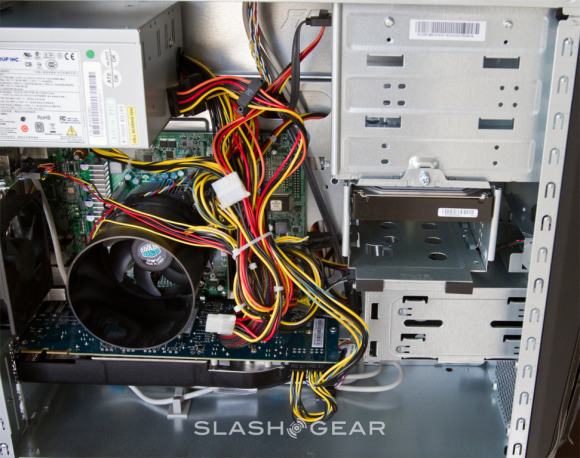 Inside, Acer has paired Intel's 2.93GHz Core i7-870 processor with 8GB of DDR3 1333 memory, a 1.5TB 7,200rpm hard-drive and ATI Radeon HD 5850 video card with 1GB of its own memory. There's also a 16x DVD burner, integrated audio and gigabit ethernet, and two spare PCI-E x1 slots and a single PCI slot. Connectivity includes four USB 2.0 ports on the front, eight on the back, two PS/2, three audio ports and a multi-format memory card reader. No integrated WiFi, but Acer do throw in a USB keyboard and optical mouse, while the OS is Windows 7 Home Premium 64-bit.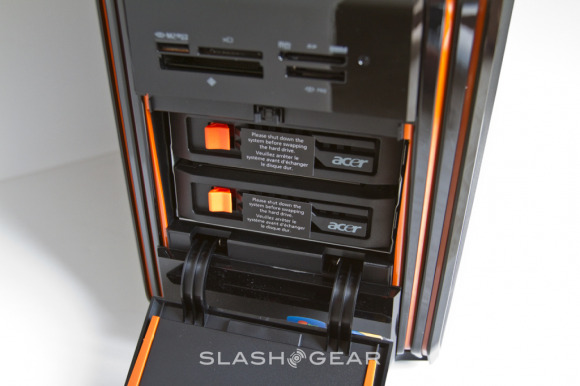 Considering it's a reasonably large chassis, there's understandably a decent amount of upgrade potential in the Predator. Two hard-drives slot in at the front on simple tray-style bays, though while it's easy to access the trays, they're not hot-swappable. Open the left-hand panel, meanwhile, and there are another two 3.5-inch drive bays, this time facing out toward the side. The molded plastic top section of the chassis angles the USB and audio in/out ports up, useful considering the PC will mostly likely be sat on the floor under a desk, and also has a tray which can hold your iPod or other gadget while it charges.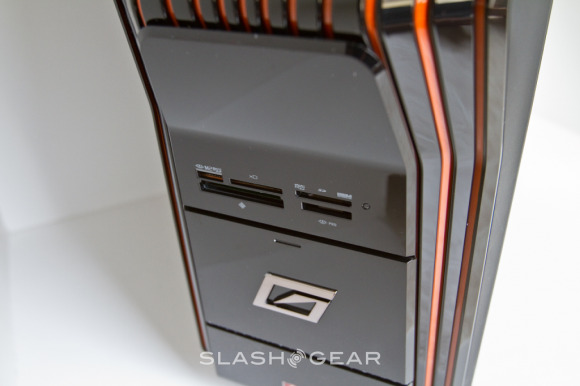 Power on, and one thing is clear: Acer has sold a fair chunk of its soul to the bloatware devil. As well as the usual McAfee and Office 2010 trials, Netflix, eSobi and WildTangent have got their claws into the Predator, and then there's Adobe and Acer's own tools. Yes, some users might find them useful, but we've a feeling most will, like us, consider them pointless annoyances and have to spend a not-insignificant length of time uninstalling them.
When we'd done that, we turned to benchmarking. Our first step was Geekbench, a synthetic test of process and memory performance we run on all desktop and notebook systems. The Predator AG5900 scored 9,315, with particularly strong CPU performance as you'd expect.
[sgbenchmark id=121 show=score]
That puts it certainly higher than most desktops, though it falls short of some of the more spec-heavy gaming models we've tested in recent times. iBUYPOWER's beastly Paladin F Series – which we reviewed all the way back in March – scores more than 50-percent more, at 15,710, with its hexacore Core i7-980 Extreme CPU; it's also more than twice the price of the Acer, however. It's worth noting that the Predator's fans are reasonably quiet, even when the system is under full load.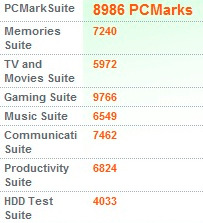 We then looked to PCMark Vantage for some more in-depth testing. Overall, the Acer scored 8,986 PCMarks, with unsurprisingly high scores in the gaming (9,766) category. Again, that's well under half what the iBUYPOWER system managed, but it's also worth noting that in the test games we looked at, we had no problems running the most recent titles at maximum resolution. Yes, the Predator isn't the fastest machine out there, but right now it doesn't have to be in order to make it comfortably equipped for what owners might be throwing at it.
In the end, it's the balance between price and performance that makes the Acer Predator AG5900-U3092 a strong contender. There are undoubtedly more powerful gaming PCs on the market, but they generally can't match Acer's pricing; at $1,349.99, it's a few hundred dollars cheaper than a similarly specified Alienware desktop. We'd liked to have seen USB 3.0 as standard, and hot-swappable drive bays, though the Predator isn't a server and the latter probably isn't something most owners would miss. Acer's Predator-series chassis designs might be pretty crazy, but the AG5900 is actually a reasonably sensible buy.