Acer Liquid Jade Primo "pocket PC" might cost a handful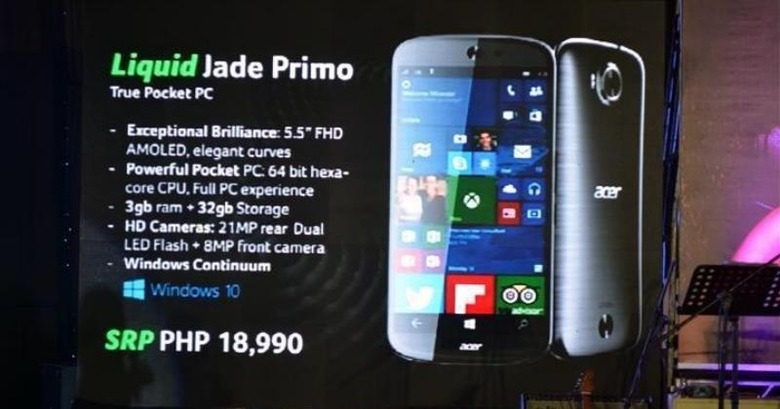 After Microsoft revealed its own Lumia 950 and 950 XL flagships, Acer took to the media to put its upcoming Liquid Jade Primo center stage. Hardly the only, not even the first, smartphone maker to announce support for Windows 10, Acer's device did make one boast that so far no other has made. It not only made it clear that the Jade Primo will support Continuum, it even said that it would ship a dock with it. Now it is somewhat revealing just how much that privilege will cost early adopters.
In the Philippines, Acer announced that the Liquid Jade Primo will carry a price tag of 18,990 Php, which is roughly just above $400. It is also slated to ship in December, which sounds just about right, giving Microsoft's Lumias a head start of the pack. In comparison, the Lumia 950 is expected to cost $549 while the larger Lumia 950 XL will go for $649.
The price might not sound bad until you consider the specs. While the two Lumia flagships of course boast of the latest hardware components, the Jade Primo sits somewhere below. Like the Lumia 950, it runs on a Qualcomm Snapdragon 808 paired with 3 GB of RAM. Unlike the Lumia, however, its larger 5.5-inch screen maxes out at Full HD resolution. It's mostly a game of trying to balance price and features.
That said, that $400 mark might not be the same for all markets, though it should be representative. One other factor to consider is whether that price actually includes the Continuum dock that Acer promised to bundle with the smartphone. The answer to those two questions could help determine whether the Acer Liquid Jade Primo will be an appetizing budget treat or whether buyers will be better off with an equivalent Lumia 950 instead.
VIA: Liliputing
SOURCE: Semi-Current