Acer introduces G6 LED monitors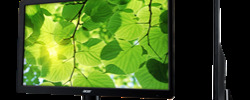 Acer has today introduced a new line of desktop monitors, the G6 series. All of the monitors feature TN panels, are LED backlit, and have low response times of between 2 and 5ms to eliminate blurring during gaming and fast moving video. Acer is introducing six LED monitors in different screen sizes, starting at 19-inches and maxing out at 27-inches.
Resolutions will differ across the line, with the 19-inch model coming it at 1440x900, the 20-inch model slightly higher at 1600x900, and the 21.5, 23, 24, and 27-inch monitors all featuring a 1920x1080 resolution. The response time on the 19 and 20-inch models will be 5ms, with every other monitor having a slightly lower time of 2ms. Refresh rate is 60Hz for models.
Acer is claiming a 100 million to one contrast ratio for all the monitors thanks to the Adaptive Contrast Management, although we'd recommend you take those numbers with a pinch of salt as always. As for connections, you can expect to find VGA, DVI and HDMI ports, with HDCP support too for all that DRM laced video content.
No word on pricing for each monitor, or availability either, but keep an eye out on your favourite retailer if one of these new monitors sounds like it's a good fit.