Acer Iconia A3 10.1-inch tablet packs quad-core Cortex A7 punch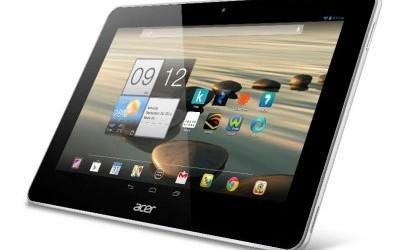 Acer has trotted out a new Android-powered tablet during IFA 2013. The tablet is called the Acer Iconia A3 and it is designed to be ideal for movie and music fans to use from the couch in comfort. The tablet features a 10.1-inch screen and is designed for touch-centric entertainment, multimedia, gaming, and web experience.
The A3 features Dolby Digital Plus virtualized 5.1 channel surround sound when used with headphones. The technology promises to reduce background noise and has a dialogue volume boost to make it easy to hear what your favorite actors are saying during the movie. The tablet features speakers on both sides creating a virtual sound box for improved stereo sound effects.
The native resolution of the 10.1-inch screen is 1280 x 800 and the screen uses IPS technology and is LED backlit. The screen features a 16:10 aspect ratio and the A3 has a built-in micro HDMI port. The tablet can be connected to an external display to make it easier to game or watch movies on the big screen.
The tablet has integrated Wi-Fi and built-in 3G is available. The processor for the tablet is a quad-core 1.2 GHz Cortex A7 minutes power miserly enough to give the tablet nine hours of video playback time per charge. The tablet runs Android 4.2 and features eight separate and customizable user profiles along with integrated Bluetooth 4.0. The tablet can be had with 16 GB or 32 GB of storage and features a microSD card slot for storage expansion.
The tablet is 10.15 mm thick and weighs under 600 g. The Wi-Fi version of the tablet will be available in Europe, the Middle East, and Africa in early October at €249. The 3G version of the tablet will be available in the same areas in early November starting at €299. There's no word on pricing or availability in the US at this time.
SOURCE: Acer