Acer H6517ST projector is 3D-ready and now available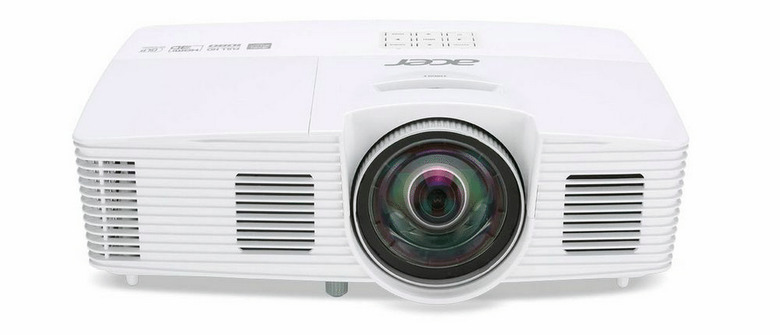 Acer America has introduced a new projector, the H6517ST, and it is now available. The projector offers Full HD video projection alongside some common functionality found on these products, plus a few higher-end than average features like support for 3D footage. At the extreme end, the H6517ST provides a 181-inch picture, eclipsing what you'd get from a television. Connectivity spans all the common options, including HDMI and D-Sub, among others. It is available to those in the United States for $799.99 USD.
The H6517ST projector supports 1080p 3D movies and 3D games, as well as 1080p resolution content in general. The projector offers a 10,000:1 contrast ratio, 3000 ANSI lumens, and support for wireless projection when applicable.

The new Acer projector measures in at 12.4-inches x 8.8-inches x 3.7-inches, and it weighs 5.5lbs. It features a top-loading design which enables rapid lamp replacement, as well as an auto ceiling mount that can rotate the image for accuracy. There's a dust resistance system, and an auto keystone correction that auto-revises any vertical distortions that might be present.
The projector comes with a few different modes, and offers 4,000 hours of lamp life when being used in the regular mode, a number that increased to 6,000 hours when in ECO mode and up to 8,000 hours when in the "ExtremeECO" mode. There's support for Android, Windows, and iOS. Mirror play is available for devices running Android 4.2 or higher.