Acer debuts new Aspire Predator AG7750 gaming desktop in Canada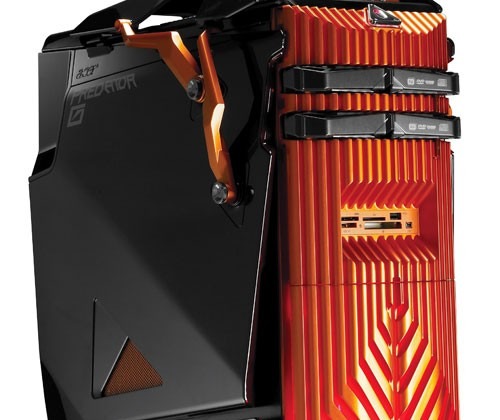 Acer has been peddling its black and orange Predator gaming desktops for a while now. The cases tend to have wild designs that look cool and inside the machines pack in some very nice hardware. The latest Predator gaming rig is the new AG7750.
The machine is packed with Intel Core i7 quad core processors, GeForce GTX470 graphics with 3-way SLI support and up to 12GB of DDR3 RAM. The machine can have as many as three GTX 470 graphics cards from NVIDIA inside.
The CPU in the new machine is the Intel Core i7-920 with Intel turbo Boost tech. Storage is up to 8TB and the HDDs in the system connect via SATA 3GB/s ports. Four of the HDD bays on the machine are easy-swap designs making it simple to remove and add drives when needed. The machine can be had in Canada for $1799 CAD.