Acer Chromebook R11 Review: portable and foldable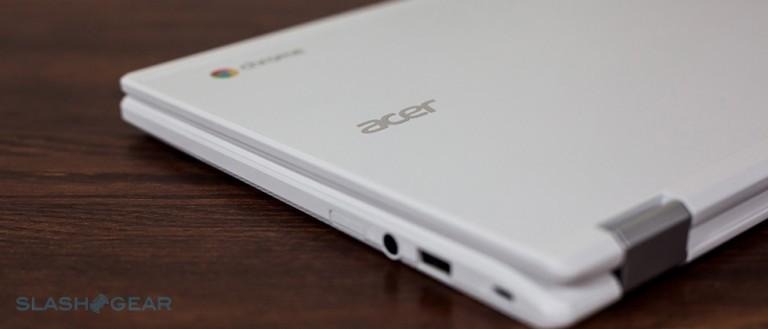 Back in September, Acer announced among other things, an update to their Chromebook line. One of the biggest changes to the line was the convertible design of the new Chromebook R11. I've had my hands on one for a little while now, and it's time to give you a closer look at it.
Hardware
As the name implies, the R11 features an 11.6-inch screen. This puts it on the smaller (and more portable) and of the spectrum. The screen has a resolution of 1366 x 768 which looks great at the smaller size. Some people might argue that 1080p might look better, but on a screen this size, I think that this is a perfectly acceptable resolution.
Since Acer went with a touchscreen, it's great to see that they decided to opt for a convertible model. Their unique "360 degree hinge" is a welcome upgrade from other convertibles that I've used in the past. The hinges are extremely sturdy, allowing for the device to be used in virtually any configuration that you'd like. It sits naturally as a laptop or a tablet, as well as the "tent" and "display" modes that Acer touts.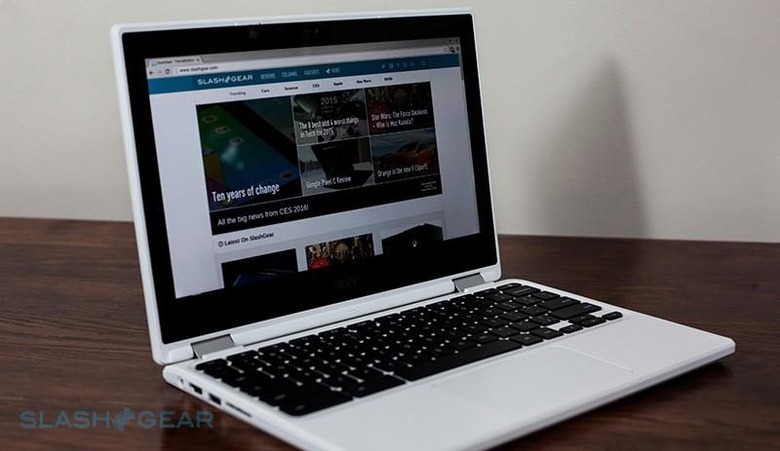 Despite the plastic design, the R11 feels solid, and not at all flimsy. Both the top and bottom feature a diamond-pattered texture that adds just a touch of flair to a surface that would otherwise be a boring white. On the lid you'll find a silver metallic Acer logo, and a simple Chrome logo.
Inside, you'll find a slightly-recessed keyboard comprised of black chicklet-style keys. There's a welcome hint of texture to the keys that give you that little extra grip. For me, this makes up for the slightly cramped feel that comes with this size of laptop.
My only beef with the hardware on the R11 comes from the trackpad. It feels a bit stiff, and requires a varying degree of pressure, depending on where you press. It's not terrible by any means, just not as comfortable as I'd like.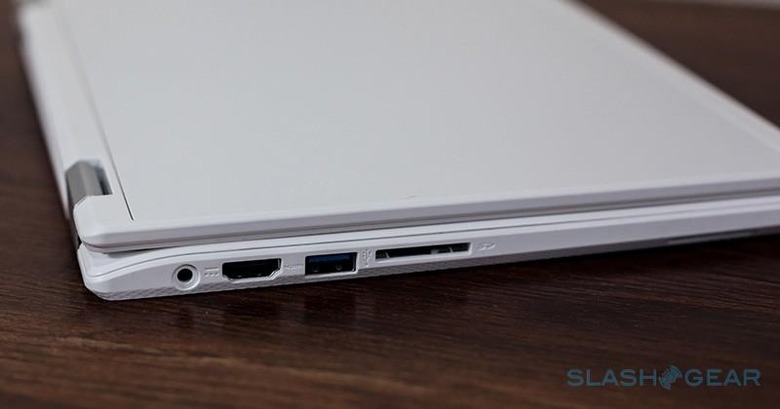 In terms of ports, on the left side you'll find your power, HDMI, USB 3.0 and SD card slot.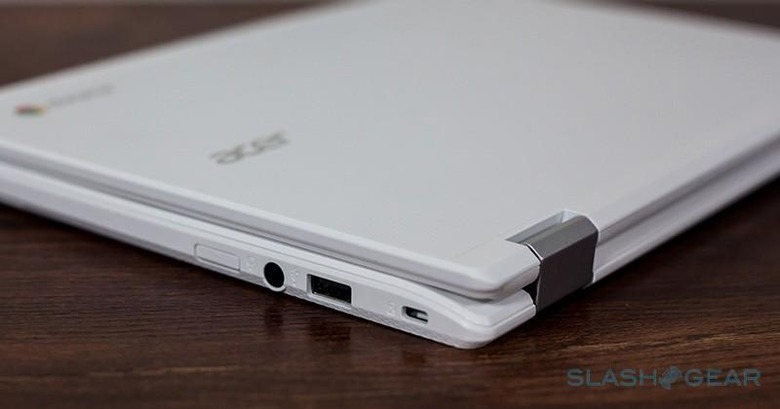 On the right side are the headphone jack and USB 2.0 port, as well as the power button and Kensington security slot.
As for the technical specs, you can find those below:
Chrome OS
Intel Celeron N3150 Quad-core 1.60 GHz
11.6" HD (1366 x 768) 16:9 IPS
Intel HD Graphics with Shared Memory
4 GB, DDR3L SDRAM
32 GB SSD
Performance
Performance is a little different to measure on a Chromebook than on a traditional laptop. This comes from the fact that you won't be running any power-hungry software, due to the nature of the OS.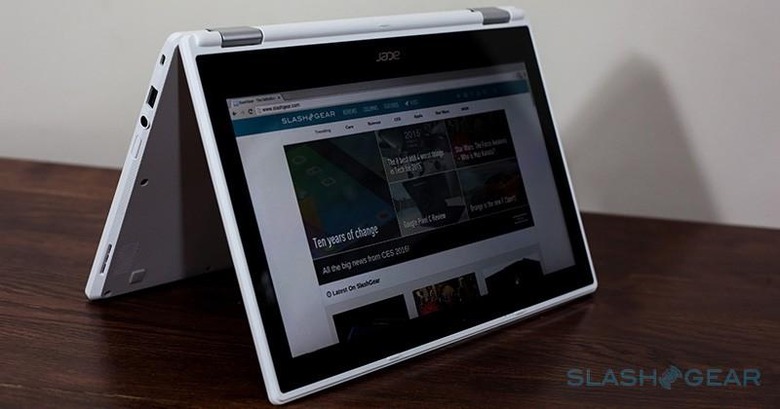 The Chromebook is designed to do two things: Perform Chrome-based tasks without faltering, and last a long time doing them. The R11 does both things quite well. Being a multitasker, I was happy to open up tab after tab, and still watch a video in HD without any lag, whatsoever.
Speaking of watching videos, both the screen and the speakers were impressive during my testing. The colors were sharp and crisp under most conditions. The screen could be a bit brighter for use outdoors in the sunlight, but otherwise, it performed admirably. As for the sound, it was loud, and surprisingly clear for something of this size. I was happy to find that the speakers not only pointed down on the bottom of the laptop, but the vents on either side of the body allowed the sound to ring clearly even when the bottom is covered up in the laptop or tablet modes.
As for battery life, Acer claims that it gets up to 10 hours. During my tests, it averaged between 9 and 10 hours, which falls right into that area.
With conventional benchmarks unavailable for ChromeOS, we tend to run the Peacekeeper benchmark's HTML 5 benchmark, which you can find below.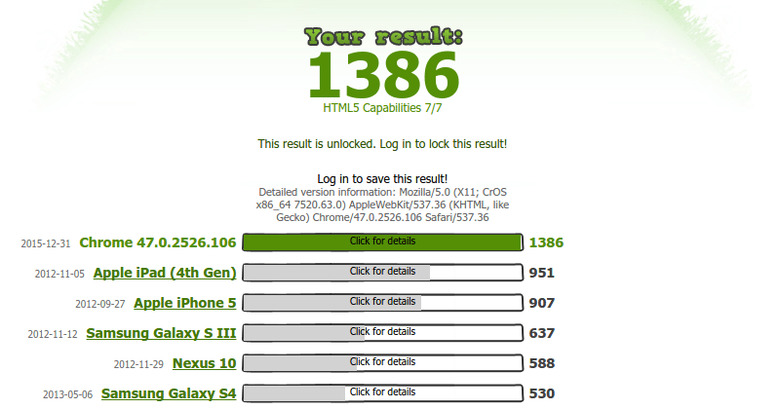 Conclusion
Overall, Acer's Chromebook R11 looks, feels, and performs wonderfully. It's a bit smaller than I'd like, but perfect for those who don't want to lug around something with a larger screen.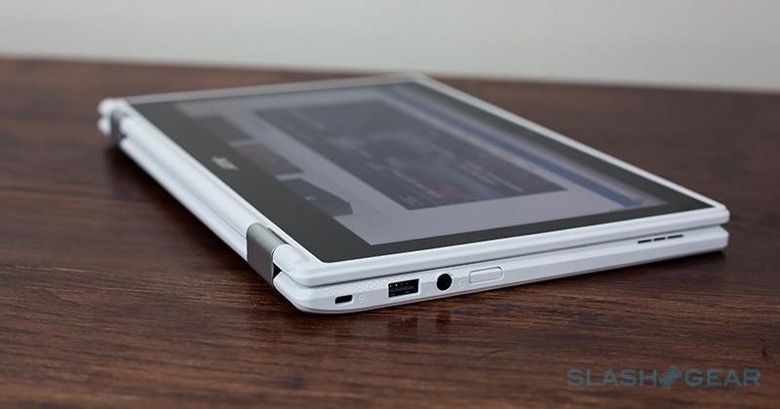 The version that we tested, which comes with 32GB of storage and 4GB of RAM will run you $329.99 directly from Acer, though in my research, I found it for as little as $290, elsewhere. If you're looking for something small, light, and versatile that won't break the bank, you won't go wrong here.