Acer Chromebook R 13 takes aim at large tablets, convertibles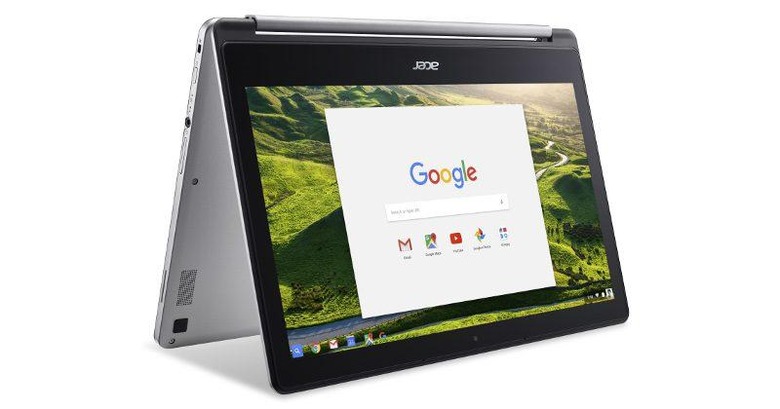 Chromebooks are getting a new lease on life, ironically thanks to the promised support for Android apps, which is actually still coming. That waiting period is almost a perfect time for manufacturers like Acer to put out new Chromebook models that switch from laptop to tablet and anything else in between. Indeed, the new Chromebook R 13 unveiled here at IFA 2016, like the R 11 before it, is one such device. But with a larger screen and (somewhat mediocre) mobile specs, the Chromebook R 13 isn't just competing among dozens of low-priced Chromebooks. It is also in a race against larger Android tablets and, of course, Windows 10 convertibles.
If it were an Android tablet, the Acer Chromebook R 13 would qualify as a mid-range device. Despite the larger 13.3-inch display, it only has a resolution of 1920x1080 pixels. The 64-bit quad-core MediaTek MT8173C is from last year's processor line. And the 4 GB RAM still uses LPDDR3 technology. You get a choice of 16, 32, or 64 GB of eMMC storage
That said, those specs are typical of a cloud-oriented, budget-friendly Chromebook, and Acer's latest entry isn't going to break from that mold. Somewhat. Still rare are the Chromebooks that can morph into laptop, display, tent, and tablet modes at a moment's notice, made usable thanks to the touch screen. And Chrome OS remains a lightweight alternative for users who need a no-nonsense but affordable device that can meet the most common computing needs.
Aside from its multi-form design, the Chromebook R 13 will pull buyers in two ways. One is the promise of upcoming Android apps, which will make the device function as both laptop and tablet in one. The other is, of course, the price. Starting next month, the Acer Chromebook 13 will be made available in both North America and EMEA regions, starting at $399 and 399 EUR, respectively.