Acer Chromebook 15: world's first 15.6in Chromebook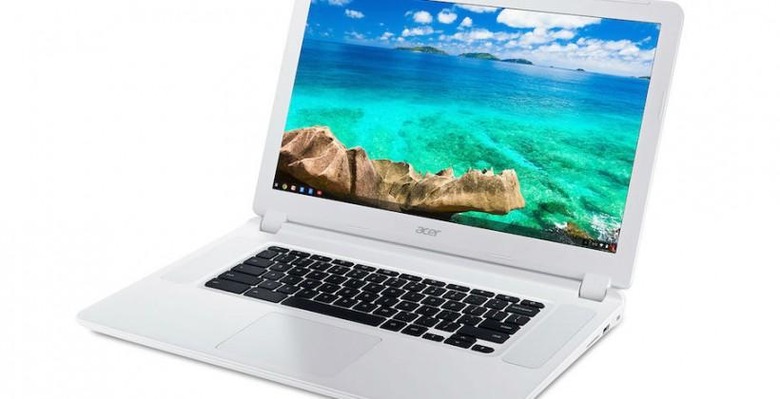 Welcome to the year 2015, and with it it's finally time for a Chromebook larger than 13 inches. Thanks to Acer, that's exactly what we're getting with their new Chromebook 15, announced just before next week's CES event. Featuring a 15.6 inch screen, making it the world's largest Chromebook, the latest version of Google's desktop-based Chrome OS, a 1920 x 1080 display, and claiming 8 hours of battery life, Acer's new laptop is priced very nicely starting at $250.
While an exact release date hasn't been revealed yet, Acer says its new flagship Chromebook will have several customization options. For screen resolution, the Chromebook 15 offers 1366 x 768, as well as the previously mentioned 1920 x 1080 full HD (the no-brainer choice). Storage comes in 16GB or 32GB of flash, and memory options are either 2GB or 4GB.
The Chromebook 15 will also feature Intel's new fifth-generation Core i3 or Celeron processor. Acer says these new Broadwell-based chips will allow the laptop to reach 8 hours of battery life on a single charge, but we'll have to wait to see how that measures up with real-world usage. As for the downside, a larger screen means a heavier device, and the Chromebook 15 weighs in at 4.85 pounds, making it a bit hefty for a portable.
The remaining details include ports for USB 3.0, USB 2.0, and HDMI, as well as an SD card reader. Hopefully we can get some hands-on time soon, but for now the Chromebook 15 looks like a smart choice for those in need of a budget laptop, but also satisfy someone looking for a decent size screen to make it their primary computing device.
SOURCE Acer