Acer Aspire Z5600 Review - Multi-touch capable All-in-one PC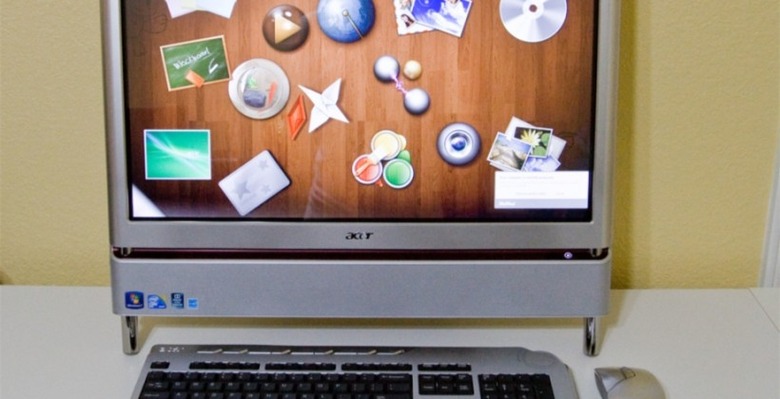 Windows 7 touchscreen PCs are slowly growing in number, but the all-in-ones we've generally seen have used notebook components rather than desktop ones. That makes for a more compact machine, certainly, but it does mean you miss out on processing power. Acer's Aspire Z5600, however, packs a full desktop CPU along with a 23-inch multitouch-capable display, and the company sent us over their first review unit to see how well it performs.
The Acer does pretty well, just going from the spec sheet along. The desktop-spec Intel Core 2 Quad Q8200 processor is paired with 4GB of DDR3 memory and a 1TB 7,200rpm hard-drive, along with Intel GMA X4500HD graphics. Connectivity includes gigabit ethernet and WiFi b/g/n, along with eSATA, audio in/out, six USB 2.0 ports, a multiformat webcam and 5.1-channel audio. There are also 5W stereo speakers, a 1-megapixel webcam and a copy of Windows 7 Home Premium.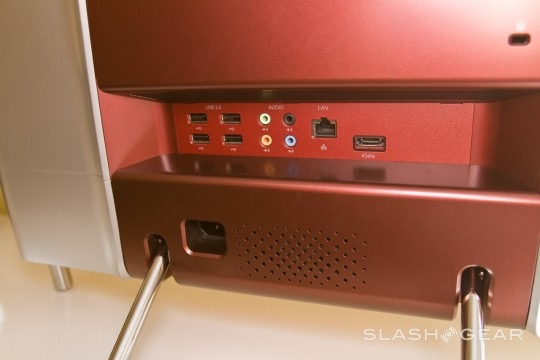 At first glance you could mistake the AZ5600 for an LCD display, and it's a reasonably-designed – if a little plastic-heavy – machine. The majority of the ports are at the back, in a deeply recessed panel that's tricky to reach without pulling the Acer out on the desk, though there are a few USB 2.0, the memory card slot and the DVD burner on the sides. A Home button sits in the strip in-between the LCD and speaker sections, and the power button is on the top edge, but otherwise most of the work is done via the touchscreen. Two chromed legs on the back tilt to adjust the overall screen angle, which you'll need to play with since the panel itself is reasonably glossy.
Acer supply a wireless keyboard and mouse, the former having various shortcut and media control keys, together with a large volume dial, and the latter being a pretty straightforward wheel-mouse. Neither feel especially high-quality, but they at least match the matte silver color scheme of the PC itself.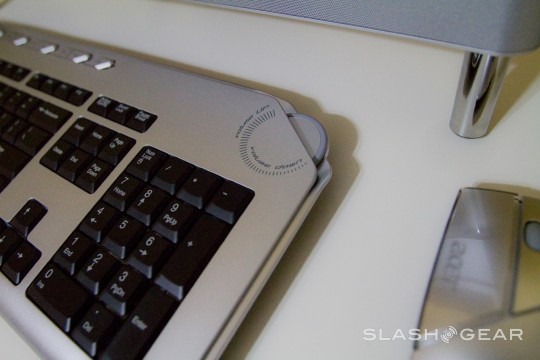 The closest machine we've tested to the AZ5600 is Sony's VGC-RT150Y, a little over a year ago. It's either a testament to the impressive performance of that all-in-one back then, or how much the Acer delivers for its significantly lower price, but the benchmarking results are pretty similar. The Acer's 2.33GHz Q8200 CPU edges out the Sony's 2.67GHz Q9400, scoring 5475 to its 5445 overall in Geekbench; bear in mind the Acer has half the RAM of the Sony, too.
Equally important, perhaps, the AZ5600 runs far cooler and more quietly than the Sony managed, only flexing its muscle when called upon. We had no problems multitasking with performance-intensive apps, like processing video while simultaneously browsing. Where we'd like to see more grunt is in the Acer's graphics chipset, with the GMA X4500HD falling short when compared to the GPUs on offer from ATI or NVIDIA.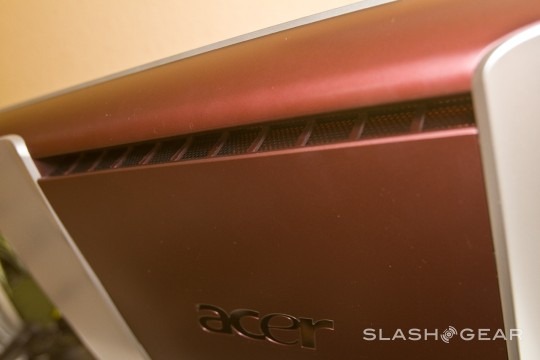 Of course, the Acer's 23-inch 1,920 x 1080 Full HD 16:9 display is also a touchscreen, and it's one of the more responsive panels we've used recently. Windows 7 Home Premium has various touch-specific customizations, but Acer also load up their own Acer TouchPortal app that leans heavily toward finger-gaming. It's not going to replace your PS3, certainly, but there's more to do with touch here than on rival machines, where it can feel somewhat bolted on as an afterthought. Multitouch gestures – such as pinch-zoom and rotate – are all present and correct, though as we've seen before once you get out of core Windows 7 apps third-party software is generally patchy in its support.
Acer TouchPortal also throws some social networking into the mixture, aiming to be a dashboard of sorts for your social life. Flickr and Facebook integration pulls in new photos from your friends lists on both platforms, though it's not the comprehensive offline app that it could've been. Useful for catching up with the latest shots, yes, but we found ourselves clicking into Facebook itself to do anything more ambitious.
[vms ec9232f3a2f028ad5c89]
Like Microsoft's own Surface Pack of touchscreen games and visual distractions, the Acer apps are a distraction but not a particular reason to buy. Where the AZ5600 does stand out is in how it combines strong performance with lounge-friendly noise levels. For the $999.99 sticker price we'd like to have seen discrete graphics and a Blu-ray drive, at least for media playback – then the AZ5600 could've replaced a bedroom or kitchen TV – and the absence of any sort of video output (or input, for that matter) seems shortsighted. Nonetheless, if you want a sizable display, responsive multitouch and strong performance to do more than just a little browsing and video playback, the Acer Aspire Z5600 certainly delivers.