Acer Aspire V5 Review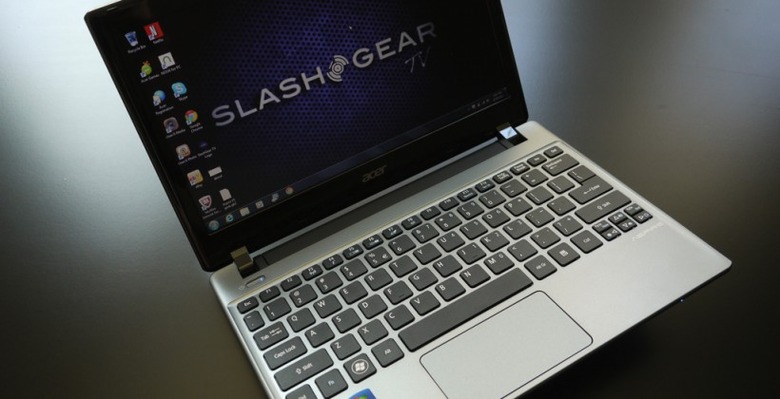 Acer first detailed their new Aspire V5 series earlier this year back in March, claiming to offer better laptops over previous generations all while managing to be around 30% thinner than previous models and other laptops in the price range. Now that Acer's rolled out the lineup to retail stores we're taking a look at the budget family member in their 11.6-inch Aspire V5. It might come at a budget friendly price but it doesn't compromise on performance. Take a peek below.
Chassis
To be specific today we're taking a look at the Acer Aspire V5 171-6867 with an 11.6-inch display. This well rounded little ultra-portable might look like the average netbook, but they've managed to pack in a pretty decent punch with the Ivy Bridge Core-i5 under the hood. As far as the chassis you'll be greeted with a lightweight and rather cheap feeling plastic but the clear coat keeps it feeling smooth, and scratch resistant. That plastic pays off however as the laptop comes in at just 3.09 lbs. Making it rather fun to hold and wander to your nearest Starbucks with. It is 0.8" thick at the thinnest point, and stretches to barely over 1-inch at the widest thanks to the 4-cell battery.
There certainly isn't anything new in terms of specs or styling here, but for just over $500 we can't be expecting anything revolutionary. The price however brings a pretty great laptop considering many in the price range feel flimsy and rather cheap. The Aspire V5 does have a lightweight plastic I'm not too fond of, but it doesn't ooze of cheapness like some in the past. It looks fancy, but you'll quickly recognize it's plastic once you open her up. The rounded edges are nice and smooth, and the slightly textured feeling once opened is rather comfortable during daily use.
Ports
As you wrap around the curved plastic edges you'll come to the left side full of useful ports. First you'll notice the large venting system to cool that Core i5 dual-core processor. On the left we also have Ethernet, VGA out, HDMI, and a USB 3.0 port for added speed. Around front you'll be greeted with the 2-in-1 SD card reader, and some LED notification lights for activity. Then to the right side is the rather bland female charging port, the other two USB 2.0 ports, followed by the micrphone/headphone jack.
Keyboard & Trackpad
Here with the Acer V5 we've been quite impressed by both the trackpad, as well as the keyboard. For being a compact 11.6-inch device the keyboard is one of the most impressive ones we've used as of late. The island style chicklet keys are comfortable, have a good texture, and the response is decent although a bit mushy. I instantly felt comfortable and was able to type with ease here when other 14-15 laptops have given me trouble. It's safe to say this is one of the better 11-inch keyboards available to date.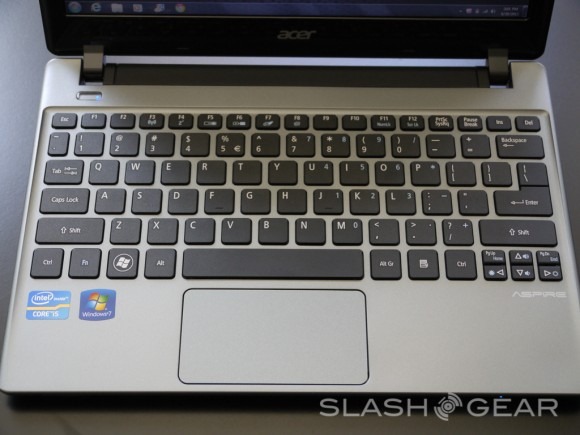 The trackpad along with multiple newer laptops has a texture that I'd absolutely be fine without. It makes sliding your finger around for navigation irritating and doesn't give you that smooth easy-going feeling. Considering the size of the laptop you get a decently sized trackpad, and usage was fairly acceptable. If you tried to click too high it wouldn't register, as the lower end had the best response.
Overall the keyboard and trackpad can't be considered great since we only have 11.6-inches to work with, but considering the circumstances this will do just fine and is certainly among the better options available. My only other main area of concern is the tiny arrow keys that double as volume controls or brightness, and wish they'd be larger. In all other regards this was smooth sailing.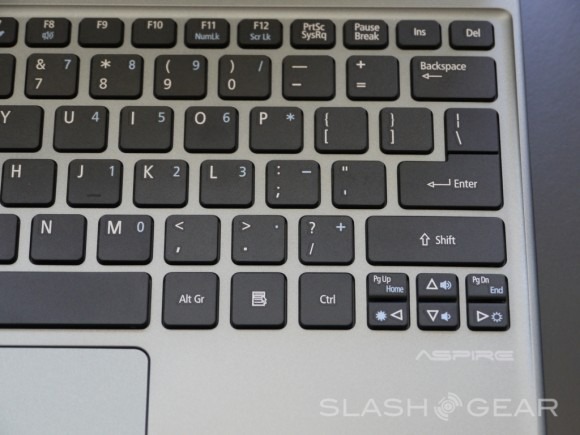 Display & Sound
Here Acer has outfitted the V5 with their 11.6-inch 1,366 x 768 display surrounded by an extremely glossy and fingerprint prone bezel — but what's new. You do get a 1.3 megapixel webcam, but it wasn't too great. The Acer CineCrystal LED display was decently crisp although we've certainly seen much better in this size range. Again considering the price, the screen is crisp and decent although a bit lacking in the brightness department. We'd love to have a bit more brightness as well as better colors as they felt a bit dull and lifeless at times.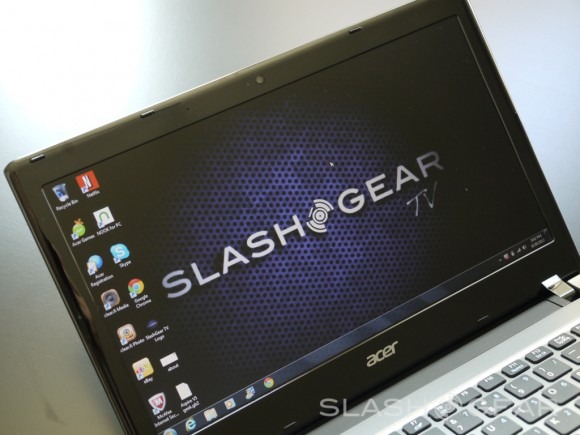 The same could also be said about the sound — dull and lifeless. A good way to explain it would be that usual tin can sound we get in basically every laptop available, but with a bit of a distance and fade to it. Sadly even at max volume the sound was nothing special, although it did get plenty loud for those wanting to blast away. Aiming down the sound was also muffled when using anywhere aside from a computer desk.
Performance and Benchmark
This laptop is running on Windows 7 x64 and as we mentioned above is rather sneaky in the fact that this small size still rocks a 1.7 GHz dual-core Core i5 Ivy Bridge processor. To be specific we have the Core i5 3317U on board. Along with 6GB of slow DDR3 RAM and a 500GB hard drive. I'm used to SSD's and always enjoy the good ol sound of spinning hard drives these days. Obviously the Intel HD Graphics 4000 won't be getting you any extreme game performance but as I mentioned in my video above it was enough for some quality video output through HDMI for some Pre-season NFL gametime.
As usual it all comes down to the benchmark performance and we've ran a quick Geekbench to take it through the paces, as well as posted up the Windows scores too. While it didn't perform as good as the recent Aspire S5 we reviewed, it handles its own extremely well. Especially when considering the $500 price segment.
[sgbenchmark id=178 show=score]
[sgbenchmark id=178 show=system]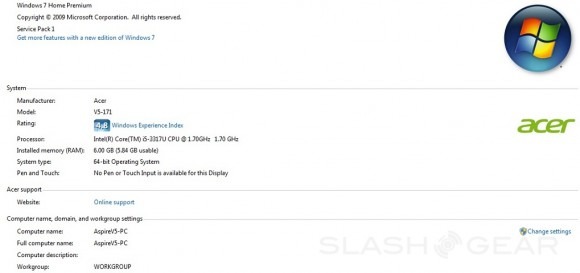 Wrap-Up
All things aside if you are in the market for a quality 11-inch notebook this is certainly one of the better options available. Given the impressive price/performance ratio and specs you'd expect to see in a larger notebook you'll love the Aspire V5. Of course all that in a tiny package gets quite hot, and if you're going for an Ivy Bridge and 500GB hard drive you might as well pick up something with a 14 or 15-inch display.
For those that want some top of the line performance while not suffering in the portability and ease of use department — you could certainly do worse. The battery life barely managing 5 hours no matter the task was a problem with the small battery however. For a few more dollars you could get a bigger screen and better battery life with similar performance. Do you need the lightweight and small size? If so this is the notebook for you.