Acer Aspire TimelineX 1830T Review
There was a time when an ultraportable notebook would invariably cost well in excess of $1,000 and offer performance suited to little more than emailing. Now Acer's Aspire TimelineX AS1830T-68U118 drops onto the scene, a sub-$900 11.6-inch ultraportable packing an Intel Core i7 processor and a claimed battery life of up to eight hours. Too good to be true? Check out the full SlashGear review after the cut.
Acer's TimelineX series – itself a development of the Timeline range – is reasonably mature now, and the design language has evolved into a slick, handsome line-up of variously sized notebooks. The TimelineX AS1830T-68U118 is the smallest on offer, at 11.6-inches, and is a roughly 1-inch thick slice of black brushed aluminum. It's lightweight, too, at 3.1-pounds, and feels sturdy and well-built.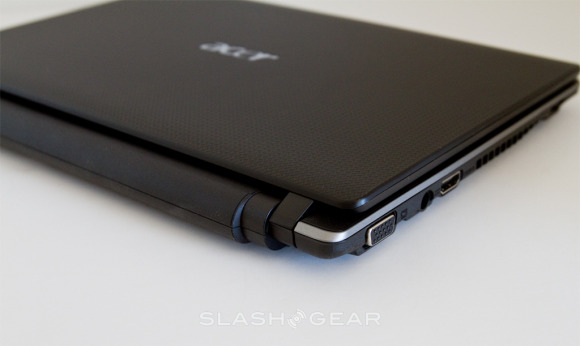 Open it up, and there's a full-sized keyboard that's particularly comfortable in use, together with a trackpad that supports multitouch gestures. It's worth noting that the Acer's trackpad is particularly accurate and responsive. The screen, meanwhile, runs at 720p-friendly 1366 x 768 resolution, and we can't really fault it either; it's sharp, the LED backlighting is bright, and the viewing angles are great. Meanwhile color accuracy is also strong.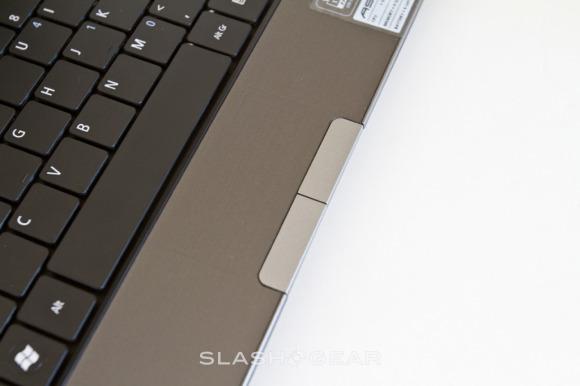 Where once a machine like this would've used a mere CULV processor, the TimelineX AS1830T-68U118 squeezes in one of Intel's latest ultra-low voltage chips, specifically the Core i7-680UM dual-core running at 1.46GHz. It's paired with 4GB of DDR3 memory and a 500GB 5,400rpm hard-drive, together with Intel HD graphics (with 128MB of dedicated system memory).
[sgbenchmark id=120 show=system]
Connectivity includes WiFi b/g/n, gigabit ethernet and Bluetooth 3.0 as standard, while there's also an HDMI port, VGA port, three USB 2.0 ports, a multi-format memory card reader and audio in/out (the latter optionally outputting S/PDIF digital audio).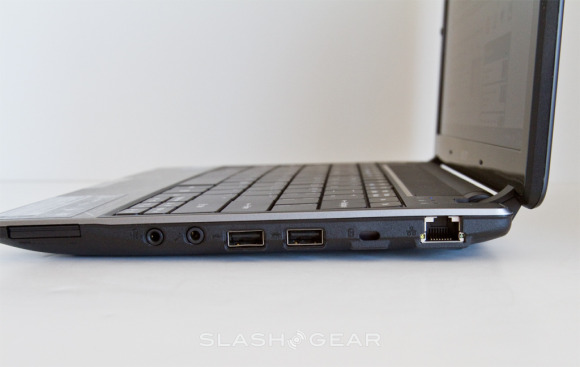 We benchmarked the Aspire TimelineX AS1830T-68U118 with Geekbench, a synthetic test of processor and memory performance. The ultraportable scored 3,805, with particularly strong CPU scores courtesy of the Core i7 chip. That's less than we've seen from other notebooks of late, predominantly because of the compromises in performance that have been made to reduce power consumption. Still, it's significantly ahead of Apple's MacBook Air (itself long overdue an update) but around half the price.
[sgbenchmark id=120 show=score]
Acer claim users should see up to eight hours of runtime from the standard six-cell, 5,800mAh battery. In practice, we almost managed to reach that figure. Browsing over WiFi, the AS1830T-68U118 lasted for 7 hours and 25 minutes, which is impressive. HD playback took more of a toll; the TimelineX could get through 3 hours and 50 minutes of a 720p HD .mkv video file before expiring. More general use should see runtimes somewhere in-between those figures.
Interestingly, despite the workload, the Acer still remained relatively quiet. Unlike many ultraportables, which have tiny, shrieking fans, the TimelineX's active cooling is more tolerable. It doesn't underperform, either; at no point did the AS1830T-68U118 become uncomfortably hot for lap use.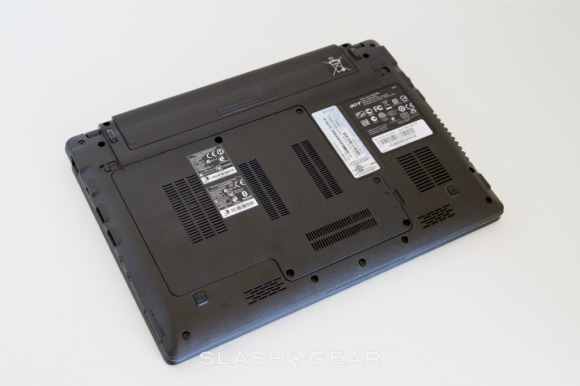 Our main complaint about the Acer comes down to its graphics; while the Intel HD is far more capable than previous integrated GPUs, we'd still prefer to see a dedicated GPU for extra performance. Something like NVIDIA's intelligently-switching Optimus graphics would be ideal. Other than that, USB 3.0 seems an obvious omission, but the main pain-point is the sheer quantity of bloatware Acer preloads. Not only are there various Microsoft, Norton, McAfee, Google and Windows Live trials installed, but seven individual Acer apps covering power management, updates and security. They slow down the system, and give a poor first impression of what's otherwise a speedy machine.
Still, a little work in the Uninstall Programs menu and much of the bloatware is gone, and you're left with one of the best value, most appealing ultraportables around today. Priced at $899.99 it's hard to argue with the Acer Aspire TimelineX AS1830T-68U118's specifications, nor its battery life or build quality. If you're in the market for an ultraportable but are unimpressed with the larger netbooks, this new TimelineX could very well fit the bill.