Acer Aspire M5630 - desktop with Blu-ray/HD DVD combo drive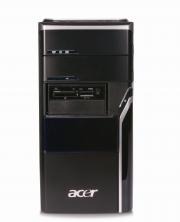 If you're still undecided about which side to take in the format wars, you're not alone. Many people still aren't sure who will come out the victor and thus don't want to be stuck with obsolete hardware. That's why some manufacturers aren't making you pick sides. Take this new PC from Acer.
The new M5630 desktop from Acer is being touted as the first desktop PC to offer a combo Blu-ray/HD DVD drive. Obviously this isn't going to be a low-end PC. You'll get a Core 2 Quad, 2GB of DDR2, a 500GB HD an ATI X2400 with 256MB of memory and a 22-inch LCD.
Unfortunately, Acer only appears to be releasing this in Australia. The standard configuration will sell for $A2299, however it can be configured with a Core 2 Duo and a 320GB HD for $A1999.
Acer claims PC first for Blu-ray/HD DVD combo [via itwire]