Acer Aspire 8930G now featured Intel Quad-Core Q9000 Mobile Processor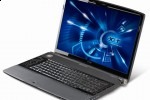 The increasingly popular netbook-size laptops are ramping up the traffic these days, it's quite a refreshment to see a full-grown laptop replacement rather than another small-people notebook. Acer has renewed its Aspire 8930G with latest Intel's Core 2 Quad Q9000 CPU, adding much raw power to its 18.4-inch screen, Blu-ray drive, Nvidia graphics powered high end gaming and multimedia mobile powerhouse.
The Aspire 8930G now offered an optional Intel 2.53 GHz Core™2 Quad Mobile Processor, with 12 MB of L2 cache and a 1066 MHz front-side bus. To match the high performance level multimedia playback, 3d gaming and HD applications; the Aspire is loaded with 4 GB of DDR3 RAM and Nvidia GeForce 9700M graphics controller with 512 MB of video memory to drive its Full HD 16:9 aspect CineCrystal LCD display. That should leave you plenty of juice left for multitasking office spreadsheet, outlook and blogging at once.
The quad core-enabled Aspire 8930G, modeled 8930-7665 is available now with configuration below at prices starting from $1,799,99 MSRP.
* Intel® Core™2 Quad Mobile Processor Q9000

* 18.4" WUXGA Acer CrystalBrite™ TFT LCD (1920 x 1080)

* 4GB DDR3 1066 MHz Dual Channel Memory

* NVIDIA® GeForce® 9700M GT with 512MB dedicated video memory

* 500GB 7200RPM SATA Hard Drive

* Blu-ray Disc™/DVD-Super Multi double-layer drive

* 6-in-1 Digital Media Card Reader

* 802.11a/g/Draft-N Wi-Fi CERTIFIED®

* Acer Crystal Eye Webcam

* Dolby Home Theater®

* Windows Vista® Premium 64-bit