Acer Aspire 5745DG Review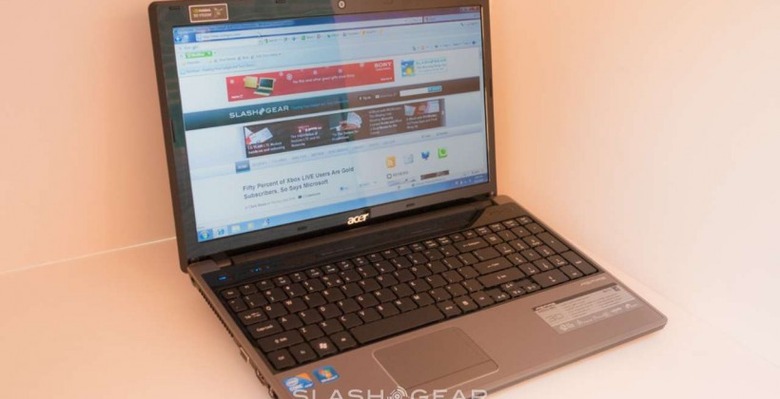 3D, if you believe the marketing hype, is the future of displays, and so with so many of us sitting in front of computer screens for a fair portion of the day, why shouldn't they get in on the action as well? Acer's Aspire 5745DG promises 3D performance and everyday potency, thanks to a combination of an Intel Core i5 processor and NVIDIA 3D Vision technology, but is this the notebook to get us wearing silly glasses? Check out the full SlashGear review after the cut.
Hardware
Our Aspire 5745DG-3855 review unit is certainly an imposing machine, both physically and in terms of the core specs. Measuring a bulky 14.9 x 9.8 x 1.25 – 2.27 inches and tipping the scales at 6.6lb, it's heavy for a 15.6-inch notebook and the standard 9-cell battery protrudes considerably from the base. Design-wise, it's in keeping with other Acer machines we've looked at recently, with decent plastics and a mixture of glossy and matte silver and black.
Inside there's a 2.4GHz Intel Core i5-450M processor paired with 4GB of RAM and a 500GB 5,400rpm hard-drive. Graphics are courtesy of NVIDIA's GeForce GT 425M GPU, though there's no Optimus switching between the onboard Intel HD GPU and the discrete chip; in fact, the Intel graphics are basically disabled, since there's no option to use anything but the NVIDIA chip. It powers a 15.6-inch 1366 x 768 display, and though we'd like to have seen some extra pixels in there, it's a decent – if highly glossy – panel. Viewing angles are good horizontally, though the combination of slightly reduced vertical angles and the gloss finish can make finding the ideal lid position a little trickier.
[sgbenchmark id=130 show=system]
The broad width of the Aspire 5745DG has allowed Acer to slot in both a full-sized keyboard and a separate numeric keypad, which follows the fashionable chiclet-style design. It's a good keyboard, too, with nicely weighted response and little bowing during typing. Underneath is a multitouch trackpad, offset to the left to fall beneath the space bar, and Acer also includes a button to turn it off should you find yourself accidentally hitting it.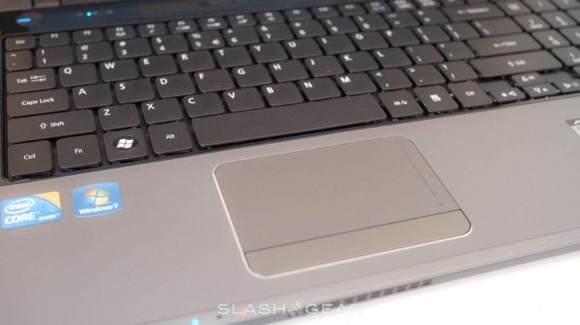 Connectivity includes WiFi b/g/n, gigabit ethernet, HDMI, four USB 2.0 ports and audio in/out (with S/PDIF), along with a DVD burner and multi-format memory card reader. No Blu-ray, however, which seems a bizarre omission on a media-centric machine, nor eSATA, USB 3.0 or ExpressCard. A webcam above the screen and integrated microphone round out the main specs.
In the box there's also a set of NVIDIA's 3D Vision glasses, recharged via miniUSB. These take advantage of the 5745DG's 120Hz display, synchronizing with an infra-red emitter built into the bezel and flicking the view between the two lenses while the GPU serves up each half of a 3D image alternately. The end result is a 60Hz 3D picture.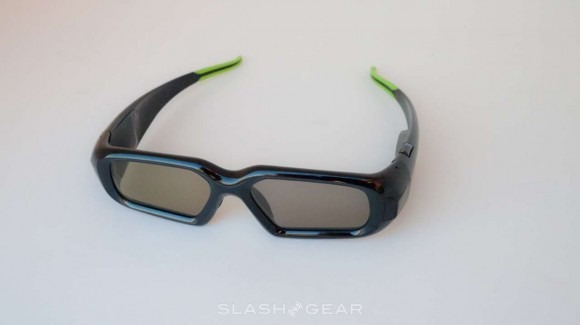 Software
The Acer Aspire 5745DG runs Windows 7 Home Premium, and as we've complained about before there's the usual array of bloatware and trials pre-loaded. Several of those are of Acer's own creation, handling webcam, registration and driver updating, but then you also get trials of Microsoft Office and McAfee Internet Security, Google's Toolbar pre-installed, Skype, Norton Online Backup and more. The end result is a system that feels sluggish at the first power-on, and we wonder when Acer – and other manufacturers – will see sense and sacrifice the referral fees from the software companies in favor of a more favorable first-impression for the user.
NVIDIA's 3D Vision system is currently supported by over 450 games by the company's own count, and of course there's 3D video to think of as well. Since there's no Blu-ray drive, that content will likely be downloaded rather than supplied on a disc; NVIDIA preloads sample media which performs well, but 3D content online is still in its infancy.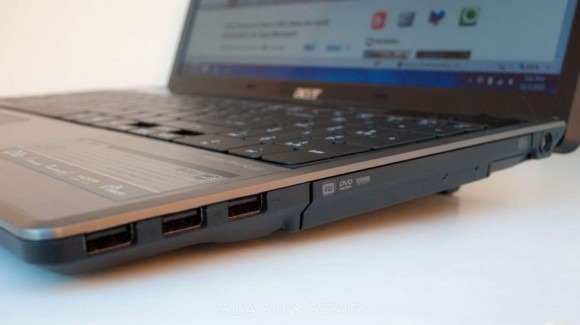 Performance
With no Blu-ray on this particular SKU, you'd be forgiven for assuming the 5745DG-3855 was targeted at gamers. Unfortunately, the mid-tier GPU may present a stumbling block for system-intensive modern titles. We kicked off our benchmarking with Geekbench, a synthetic test of processor and memory performance, and as you'd expect the Core i5 CPU puts in a decent show. The 2.4GHz Aspire scored 4814, roughly on a par with the similarly-specified HP ENVY 14, and around 200 points behind the 2.53GHz Gateway ID49C.
[sgbenchmark id=130 show=score]
Unfortunately PCMark proved unable to detect the GeForce GT 425M GPU, so we turned instead to Cinebench. The Acer scored 20.67fps in OpenGL and 2.15pts in CPU. In terms of real-world performance, we had no problems with regular daily tasks, such as browsing with multiple tabs and windows open, or simultaneously playing video and audio.
However, recent games such as Call of Duty 2 struggled with the power on offer, only playing comfortably when a knife was taken to the quality settings. It's worth remembering, too, that 3D games place more of a demand on the GPU than 2D titles: the NVIDIA chip has to create left- and right-eye graphics for each frame, and that can take a significant toll on framerates. Need for Speed: Shift was more successful, with the 3D effect proving impressive.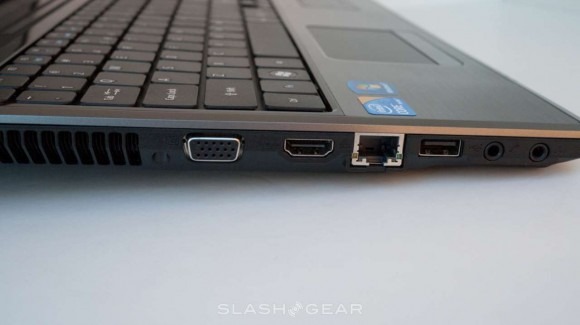 Ironically, the 120Hz screen actually showed its worth more during regular 2D gaming and multimedia, where – just as on 120Hz HDTVs – faster content such as sports was smear-free. Glasses-free 2D viewing also avoids the inevitable brightness loss encountered during 3D playback, which can leave darker movies and games murky and uninspiring.
Battery
With a 9-cell battery, you'd hope the Aspire 5745DG could offer above the odds in terms of runtimes, but the Core i5 CPU and always-on GPU chew their way through a significant amount of power. Acer quote up to 4hrs normal use from a full charge. The absence of Optimus is a particular frustration, though the GT 425M is able to underclock itself depending on activity and load. Still, it's not as frugal as Intel's HD GPU.
With a mixture of browsing over WiFi and some media playback, we managed around 3hrs 30mins of runtime. Playing DVD content continuously sapped that down to just under 3hrs.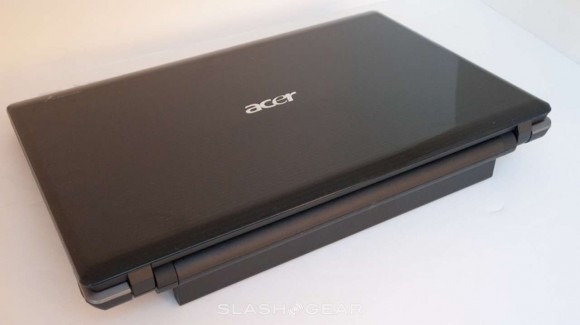 Wrap-Up
There's no denying that NVIDIA's 3D Vision technology works, although those who already wear glasses or struggle to remember to charge their phone will likely find the necessary 3D eyewear a frustration. The question we're left asking is why Acer decided to cut corners on the optical drive, given you'd expect the company to want Aspire 5745DG owners to have access to as much 3D content as possible. With no Blu-ray option, that choice is seriously curtailed.
The limitations of the NVIDIA GPU, meanwhile, mean 3D gaming isn't quite the Acer's natural forte either. There are plenty of games that run perfectly well on the GeForce GT 425M, but they're generally not the most recent and that doesn't bode well for future 3D titles on the Aspire. Mix in the absence of Optimus technology and its impact on battery life, and you're left with a fair few compromises for the Aspire 5745DG's 3D offering.
For most users, those compromises are unlikely to be worth the benefits. 120Hz displays on notebooks are relatively rare today, but as 3D Vision gains traction we imagine that will change; holding off will also give GPUs a chance to catch up and offer more future-proofing for system-intensive gaming. A combination of lacklustre content availability and middling performance leaves the Acer Aspire 5745DG-3855 underwhelming.