Acer Aspire 5738DG 3D notebook breaks cover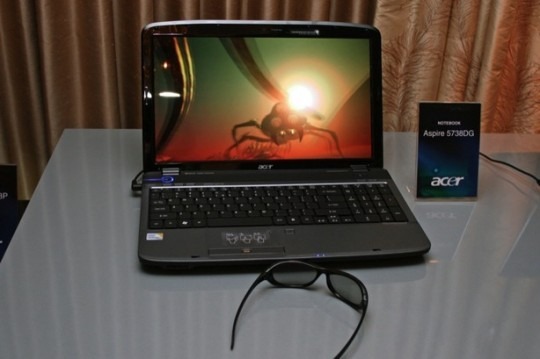 Back in the days of the Super NES there was a game that my brother and I played that shipped with 3D glasses. I can't even remember the name of the game, but I do remember it sucked. Today you can get some impressive 3D effects on PC games and 3D is coming to console systems as well. Acer has announced its first 3D notebook called the Aspire 5738DG.
Acer is relatively mum on the hard specs for the machine other than telling us that the notebook is its first software-based 3D machine. The Acer 3D system uses software in conjunction with a special 3D coating on the screen and polarized passive glasses. The NVIDIA 3D system uses hardware and active glasses.
The machine will have an Intel Centrino 2 Processor and it's not clear at this point if Acer is aiming this machine at gamers or at media fans. The machine will reportedly sell for about £950 in the UK with availability unknown at this point.