Customers Aren't Flocking To Apple Stores Nearly As Much As They Did Pre-COVID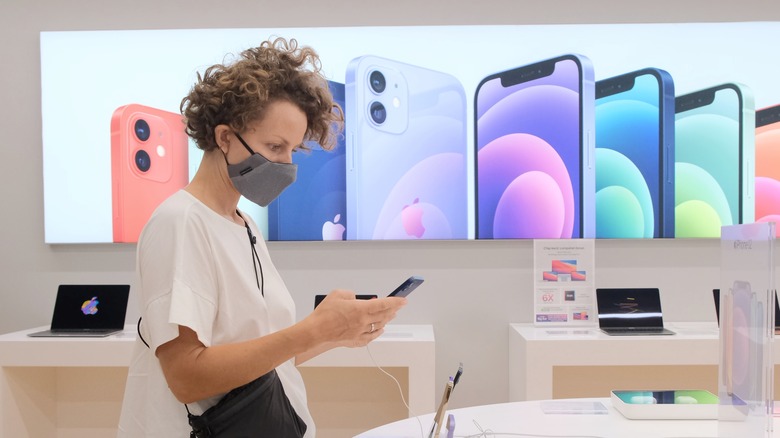 Sia Footage/Shutterstock
The coronavirus pandemic hit retail stores hard. A combination of lockdowns, people working from home, and a general fear of catching or transmitting the disease meant footfall decreased for a majority of in-person businesses. Apple may be the world's most valuable company, and fans may be incredibly loyal to the brand, but it too was heavily affected by the drop in foot traffic during COVID-19. Like many businesses, its retail stores still haven't recovered.
Apple has 272 stores in the United States, all of which offer a variety of their products for sale alongside services like device repair and replacement. You can Apple stores in malls, on major shopping areas, and even floating on large bodies of water.
Despite the fact a large portion of its business is reliant on online and third-party sales, Apple seemingly backs the retail side of its operation. On its website, the company describes stores as "the best way to buy the products you love" and highlights the specialists working there. Apple's workers are trained to give customers advice on the kind of device that will fit their needs. One-on-one sessions are also available to teach customers how to get the most out of their new apple product. Then there is the "Genius Bar," where Apple customers can get help with broken, faulty, or otherwise troublesome iPhones, iPads, and MacBooks. They also host events like Apple Camp, which offer kid-focused, educational "adventures."
Visitor numbers have dropped with no signs of recovery
Information from DataHerald, which is based on samples of foot traffic in Apple stores, shows that between 15,000 and 22,000 people "visited" the retail location every week. A visit is defined as an individual spending four or more minutes within the store itself. January 2020 saw a surge in visitors to Apple stores, with recorded footfall breaking the 20,000 visitor barrier, almost hitting 22,000 visitors in a single week. However, things changed quickly.
As the coronavirus pandemic took hold, lockdown measures, travel restrictions, and stay-at-home orders were implemented throughout the United States. The exact time this happened is reflected in the data, with the number of Apple Store visits falling below 1,000 per week in April 2020. This is around 13,000 fewer visitors than the stores were averaging just a few months before. As things began to ease, footfall increased, but the number of visits only averaged around 5,000 for the rest of 2021. The stores were only seeing around a third of the footfall they had before the pandemic hit.
Through 2021, customers began to come back and footfall numbers increased steadily. Despite the increased traffic, numbers only broke through the 10,000 visitors per week barrier once — and that was in December. The winter boost may have been down to Christmas shoppers picking up Apple products in person. Or, given that a good number of Apple stores are located in malls, it could equally be down to bored Christmas shoppers popping in for a browse. January saw another dip in footfall, and the most recent count in July of 2022 saw numbers dip below 6,000 again.