POCO F4 Review: Mid-Range Upgrade Embraces Compromise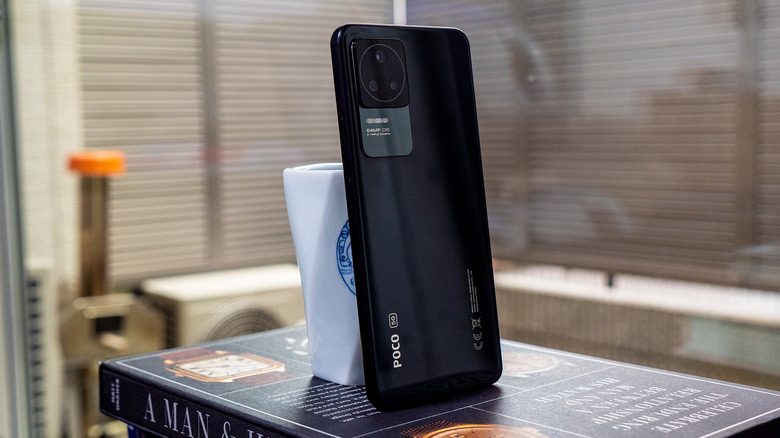 Ewdison Then/SlashGear
Xiaomi already has a budget series in the form of its Redmi sub-brand, but the company thought it could still do better and launched Poco, formerly known as Pocophone. The inaugural Poco F1 was a resounding success, offering flagship-level features in an admittedly cheap body. The price was to die for, of course, which convinced Xiaomi that there was a reason to keep the Poco brand alive. Of course, now there are sub-tiers inside Poco, with different prices and feature sets for different budgets. It tends to get confusing after a certain point when you lose track of which model is really the best. Poco has unleashed the non-GT Poco F4 to the masses, and we got our hands on one to see how it fares.
The Poco F4 isn't going to win any design awards, and hardcore Xiaomi fans will most likely recognize the Redmi K40s underneath the Poco branding. By no means is it ugly nor is it outlandish; the Poco F4 is what you'd consider plain yet functional. It is literally flat around the edges, as well as on the front and shiny glass back. The latter gives the handset a bit of a luxurious sheen with a surface that seems to guide the viewer's eyes toward the cameras due to the way it plays with light. Unfortunately, that glass is also its Achilles' heel when it comes to durability.
While the front of the phone is protected with Gorilla Glass 5, the back isn't. Considering how slippery a glossy, non-matte glass surface is, it's an accident waiting to happen. Fortunately, Poco does ship a TPU case inside the box. The phone also only has very basic dust and water resistance with an IP53 rating. Of course, it is arguable whether those ratings are worth their cost, but it's a pair of numbers that can affect a buyer's view of a phone. The phone will likely survive a few accidents, but it's clear right from the get-go where Poco cut some corners.
Display and audio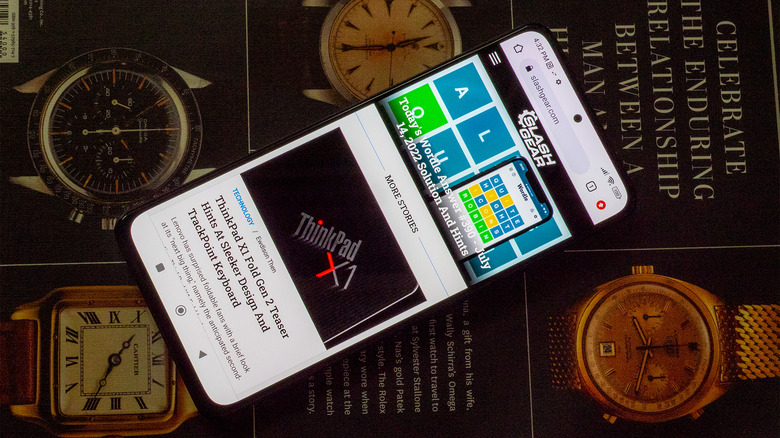 Ewdison Then/SlashGear
Considering how conventional the phone's back is, the 6.67-inch FHD+ AMOLED display easily becomes the star of the show. It is bright, vibrant, and fast, but you might find its colors more on the saturated side of things with the default color calibration. In addition to HDR10+, the Poco F4 also supports Dolby Vision, giving it an edge over other phones in its price range when it comes to video binging. With thin bezels and a small punch-hole cutout, you will have enough room to enjoy all that content.
That screen supports refresh rates of up to 120Hz, and it does have discrete rates at 30Hz, 60Hz, and 90Hz. It rarely goes below 60Hz, though, and 90Hz is only used for games that do support that refresh rate. Most of the time, the phone operates at 60Hz, with 120Hz reserved for system UI and apps — in fact, the Poco F4 only gives users a choice between 60Hz or 120Hz if you set a custom refresh rate. The default is dynamic, switching between those rates depending on the situation.
There are two pill-shaped holes on the top and bottom edges that serve as speaker vents. Yes, this somewhat mid-range phone has stereo speakers, and the top speaker isn't just the earpiece fulfilling that duty. They're pretty loud to boot, with an expected distortion at max volume. The bottom-firing speaker sounds a little louder than the top one, though that probably shouldn't be that surprising. The overall audio quality is good, but audiophiles will most likely be unsatisfied with its performance.
Performance and battery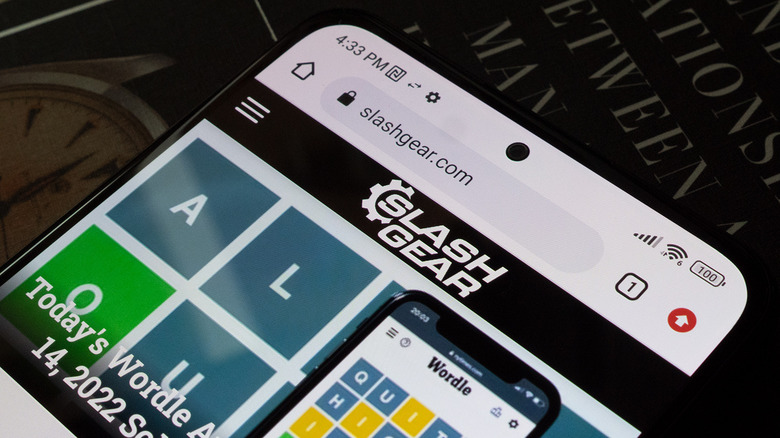 Ewdison Then/SlashGear
Unlike the Poco F4 GT launched a few months earlier, the Poco F4 runs on the Qualcomm Snapdragon 870 from last year. It's not the chip maker's top of the line, even compared to the Snapdragon 888 from the same year, but it is by no means a disappointment. It is, however, the exact same silicon used by the Poco F3, so we see another example of how the company managed to keep the phone's price relatively low.
The Poco F4 performs surprisingly well for a phone at this price point — it won't win races, but synthetic benchmarks put it in the same league as premium models from early 2021. In practice, it can handle anything you throw at it, including heavy hitters like games, especially "Genshin Impact." The choice of a slightly lower processor contributes substantially toward keeping the phone cool, as the Snapdragon 888 and higher are quite notorious for generating a lot of heat.
In almost the same vein, the Poco F4's battery is nearly identical to its predecessor; in fact, it is slightly lower at 4,500mAh versus the Poco F3's 4,520mAh. It is, however, both surprising and disappointing that this year's phone gets fewer hours in battery life, especially when everything is nearly the same. Where the Poco F4 shines, though, is the addition of 67W fast wired charging, cutting the charging time down to around 40 minutes from zero to full. There's still no wireless charging support, of course, and we dream of the day when that feature becomes a standard on mid-range phones. Poco thankfully includes the necessary 67W charger in the box, which helps save even more money in the long run.
Cameras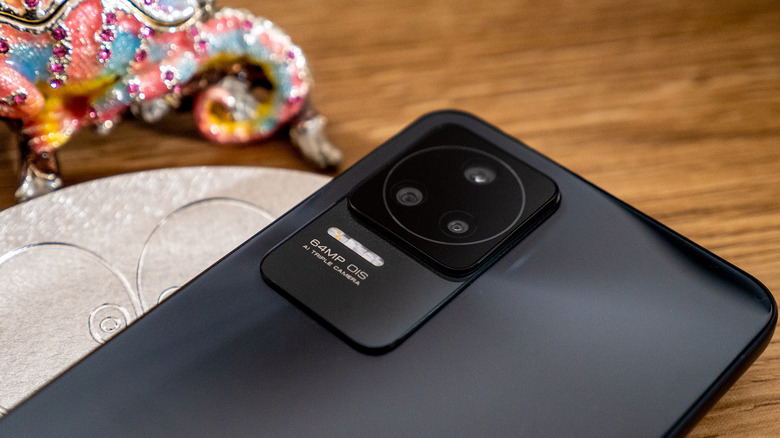 Ewdison Then/SlashGear
Keen-eyed Poco and Xiaomi fans might have noticed that very few things have changed between the Poco F4 and F3, and they would be right on the mark. Except for the faster 67W charging, everything is mostly the same as last year's F model. The story is a little different, however, when it comes to photography, and this camera could very well be the biggest reason to want to buy a Poco F4.
Poco does a double upgrade of the main camera from the 48MP of last year's model to 64MP with optical image stabilization. This OIS is one feature that not even the higher-end Poco F4 GT has on its list. That said, it isn't a complete game-changer when it comes to output. The camera does well under bright outdoor light during the day, but noise can still creep into darker patches of color. OIS does help a bit when it comes to activating night mode since you need to hold the phone steady to make the multiple exposures work. Sadly, Night Mode doesn't deliver a great deal of improvement over the normal mode in the dark.
That's not to say the Poco F4's camera output is bad — it's just not exceptional in any way. Colors tend to be more saturated, but that's on par for many phones from this manufacturer. The dynamic range is excellent, but sharpness leaves a little to be desired. Overall, the main camera is serviceable, which puts the other two cameras in a rather bad light.
The 8MP ultra-wide is as basic and as average as such a camera can get. Colors are more muted and less consistent, and it falters when there isn't enough light, which isn't all that surprising. Where things really go downhill is the 2MP macro camera, which is a strange drop from the 5MP shooter of the same kind on the Poco F3. It's as if Poco simply decided to get the cheapest macro camera it could find and shove that into the phone just for the sake of having three cameras. The company could have probably just saved more money by leaving it out completely.
Software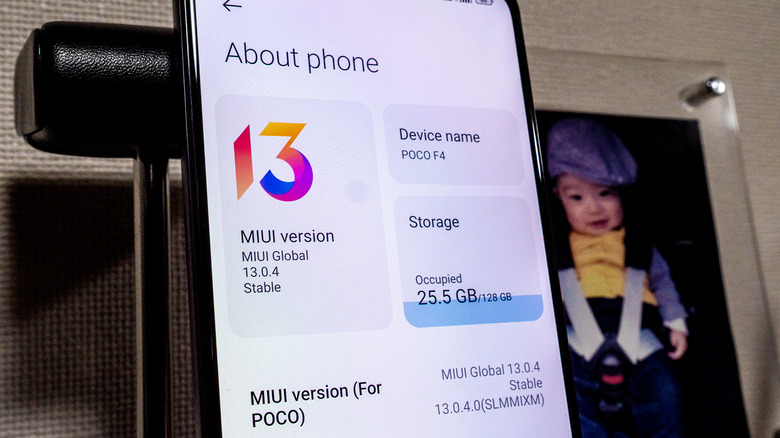 Ewdison Then/SlashGear
The Poco F4 runs on MIUI 13, which, despite the number, is based on Android 12. The Poco flavor of Xiaomi's custom user experience is completely identical to the original, save for brand-specific names or themes. In other words, you will get everything that you may have loved about MIUI along with everything you may have hated about it.
You have typical additional features like a Sidebar you can expand from any screen, themes to customize almost every part of your phone's appearance, and the RAM Expansion that can steal some of the internal storage to be used for system memory. Strangely enough, Poco's MIUI version still doesn't do floating windows, even if Xiaomi and Redmi phones have been doing that for quite a while now.
While bloatware is par for the course for many OEMs, especially Chinese ones, Xiaomi seems to have taken it to the next level with ads in its own apps. These aren't your typical shopping ads, of course, and are more like app recommendations. The good news is that you can still disable them. The bad news is you have to do it for each and every app that shows these ads rather than having a single switch to turn them off all at once.
Xiaomi hasn't had the best track record when it comes to keeping its phones up to date with the latest software patches and Android versions. Poco is worryingly even worse in that regard, but things could change for the better. Unfortunately, the lack of any solid commitment from either Xiaomi itself or its sub-brand doesn't inspire much confidence. It's definitely one part of the package that Poco needs to work on.
Final thoughts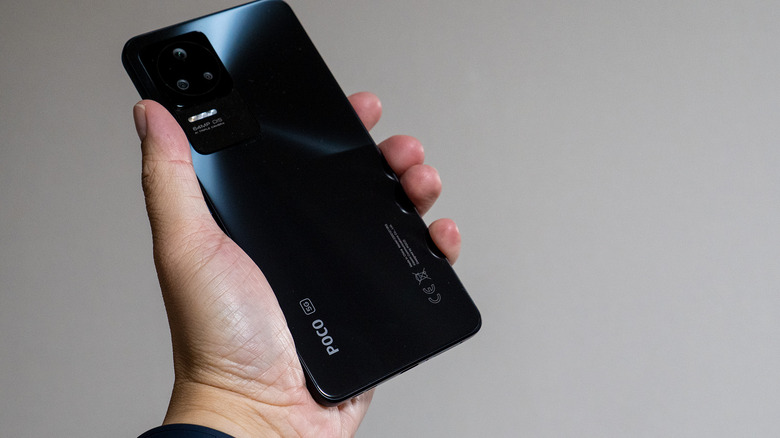 Ewdison Then/SlashGear
The Poco F4 looks and sounds like a decent mid-range phone that has a pinch of premium performance added to the formula. The Snapdragon 870 definitely gets the job done without much complaining, and the new 64MP OIS camera delivers good quality photos when the conditions are right. With a price tag that starts at €399/$399, it definitely sounds like a good deal. Unfortunately, the phone doesn't exist in isolation, and its biggest rival is its own predecessor.
In the grand scheme of things, the Poco F4 doesn't represent a big jump from the Poco F3. The only notable upgrades are the 64MP main camera with OIS, the 67W wired charging, and Dolby Vision. In all other aspects, the Poco F4 is nearly identical or, in some areas, even worse. If you have a Poco F3, it might not make sense to upgrade. If you're aiming to buy a new Poco phone regardless, the Poco F3 might still offer the best bang for the buck — not unless you really want that new camera, that is.
In the end, it really boils down to compromises, and Poco definitely made a lot of them to balance things out. It may have had to downgrade the macro camera to an almost negligible level to cut costs. It may have shrunk the battery just a wee bit to make room for the larger camera as well as a better IC for faster charging. Poco is basically offering people even more choices to fit their budget, but sometimes those choices make things even more confusing or, in some cases like this, don't always make sense.