Lenovo Yoga 9i 14 Review: Going To The Mat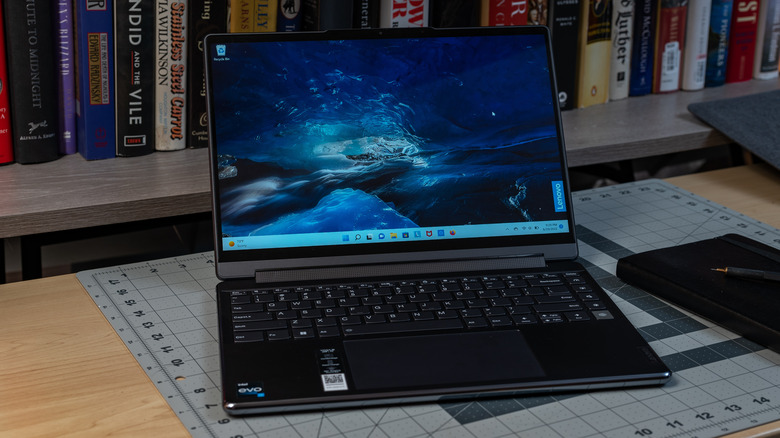 Chris Tonn/SlashGear
We may receive a commission on purchases made from links.
The latest flagship two-in-one from Lenovo, the Yoga 9i combines a new, rounded and polished design with the same familiar flip-and-fold 360-degree hinge we've known for years. Powered by Intel's Alder Lake 12th-gen P-series processors, the lightweight Yoga 9i promises to handle most everyday tasks easily, and then seamlessly transition from work to entertainment without a hitch. With a starting price of $1,319 ($1,449 as tested), this Windows 11 notebook takes on Apple's MacBook Air and MacBook Pro, but can a clever hinge and touchscreen edge it ahead?
Certainly, Lenovo nails the design. The aluminum chassis has polished, rounded edges that make the Yoga 9i comfortable to hold whether in laptop or in tablet form. A 45% larger touchpad gives plenty of real estate for gesture controls, while the larger, 16:10 aspect ratio touchscreen is 400 nits bright, allowing for easy viewing in all lighting conditions. A column of one-click function keys on the right side of the roomy keyboard gives quick access to any number of features — such as background blurring for video conferences — that have become increasingly important as of late.
A new Intel Processor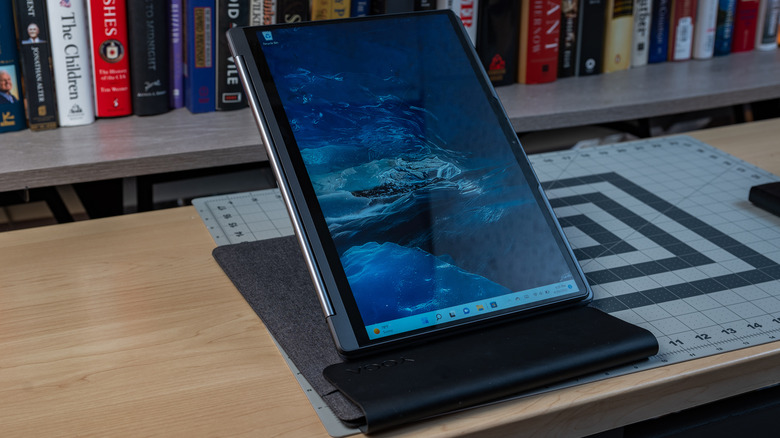 Chris Tonn/SlashGear
The 12th-generation P-series processor found here isn't the high-performance H-series at the heart of gaming and mobile workstations. Rather, it's a compromise that sacrifices a bit of top-level performance to ensure solid power efficiency. Indeed, this i7 P-series processor requires just 28 watts of power, versus 45 watts from the units more meant for high-end graphics processing and gaming. That's great for battery frugality, but it does mean less grunt for applications; the Yoga scored just 1,120 in the single core Geekbench 5 test.
The battery has been bumped from 60 watt-hours in the previous generation, to 75 watt-hours, and as you'd expect that improves on runtime. Lenovo's Rapid Charge Boost feature will give up to two hours of usage from a simple fifteen-minute charge. While my range anxiety tends to keep me from running any device too low, I never found myself worried that I wouldn't get through my work while unplugged. 
After all, one of those one-click function keys allows for quick toggling between power profiles, rather than wandering through the endless menus deep within Windows 11. Quick access to a power-saving mode can help ease that tension of a work session, a long flight without access to power, or even that "just one more episode" late-night binge with which we're all familiar.
A Trio of Bright Displays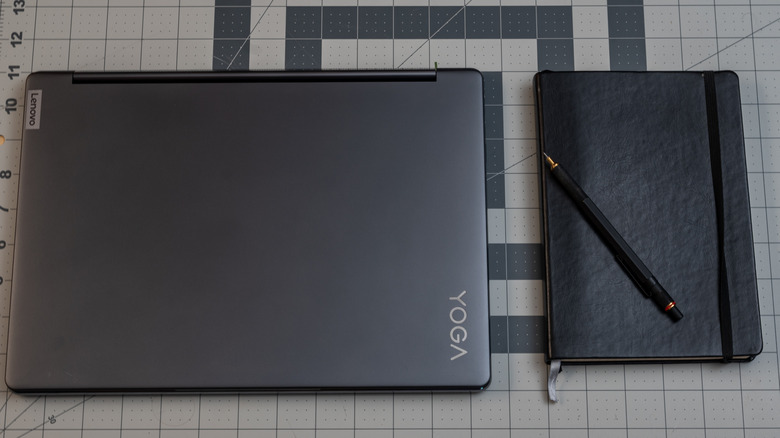 Chris Tonn/SlashGear
A trio of 14-inch 16:10 ratio touchscreens are available on the Yoga 9i, from the 1920 x 1200 LCD panel here on my review unit, to a 2.8K OLED, and topping out with a 4K OLED. No matter the panel, all measure up to 400 nits of brightness. I ventured outside a few times with the Yoga 9i, and have no complaints about screen clarity whilst working from an outdoor cafe table nor while tending a couple of burgers on the grill.
All are powered by Intel Iris Xe Graphics, with no discrete GPU option available. That's not unusual for this category of notebook. Above the screen is a 2-megapixel camera with 1080p HD video support; thanks to an IR camera, you can use Windows Hello biometric login, rather than a password. Inside, meanwhile, there's at least 16GB of dual-channel LPDDR5-5200 memory and 1TB of M.2 2280 PCIe storage.
Ports And Airports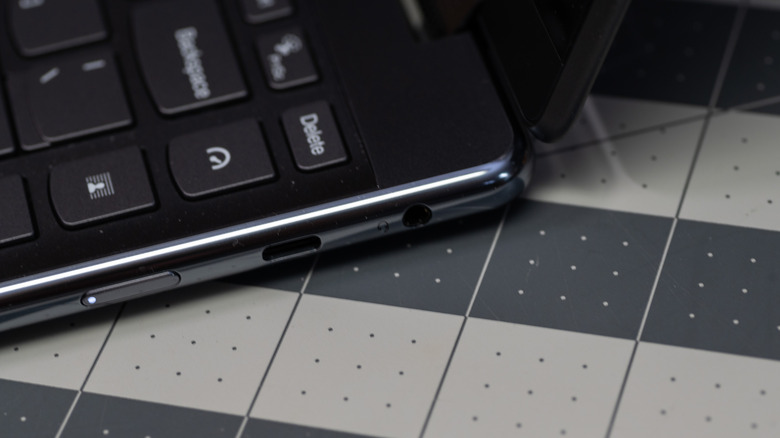 Chris Tonn/SlashGear
The Yoga and other two-in-ones like it shine in one very specific place: the airline tray table, especially in coach. I hesitate to whip out a more traditional laptop with a more rigid hinge while airborne, as I'm always wary of someone reclining and inadvertently mangling my machine. Here, flopping the Yoga 9i into tablet or tent mode for media consumption makes for a more comfortable viewing experience.
I'd hope, however, that you'd choose headphones while flying; thankfully the Yoga 9i retains the traditional 3.5mm headphone jack that is disappearing across so many of our devices. Bluetooth 5.2 is of course included as well. A pair of Thunderbolt 4/USB 4 ports, and a single USB-C 3.2 (all supporting Power Delivery 3.0 and DisplayPort 1.4 as well as data transfer) are welcome additions, as is the presence of a single USB 3.2 Type-A port for those of us still using traditional peripherals that haven't migrated to the latest standards. My aging-but-trusty wireless keyboard and mouse still work here.
Travel Light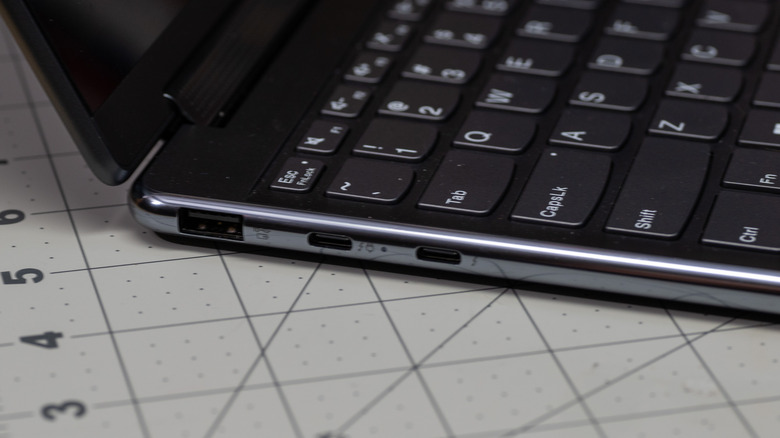 Chris Tonn/SlashGear
I will echo the legions who miss the presence of an SD card slot in their devices – it's been unceremoniously dropped on this Yoga 9i as well. That's just one more dongle to dangle when transferring photos and video (and one you'll need to supply yourself, as Lenovo doesn't include an adapter in the box). Beyond that, when traveling I often will load a spare card with downloaded movies to save storage on the internal hard drive, as it's amazing how easily one can fill a 1TB SSD these days. That's no longer an easy option.
The Yoga 9i is shipped with a nifty protective sleeve that closes with a small magnet. Within the sleeve is a dedicated loop for the included stylus – an accessory that I'm sure some will find useful, but as I'm no artist I won't be doing any digital illustration. Add that to my handwriting best suited for writing prescriptions, and I'll leave my text inputs to my good friend QWERTY.
Beauty More Than Skin Deep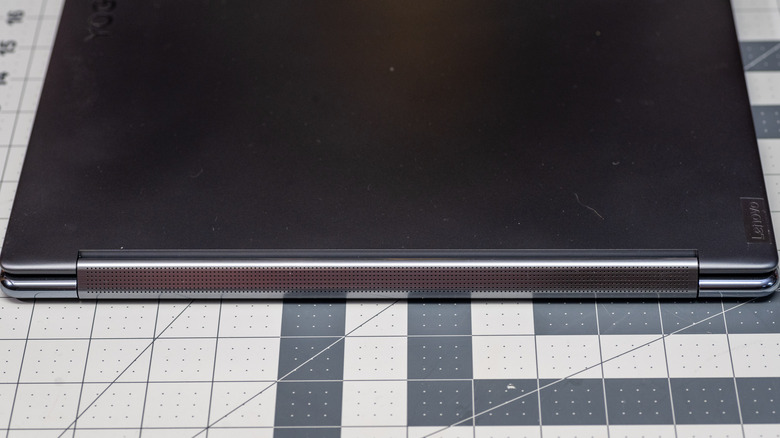 Chris Tonn/SlashGear
I spend entirely too much of my day typing, either on a laptop or on a wireless keyboard. Lenovo has a reputation for its QWERTY talents, and sure enough the keys here have a lovely feel to each stroke — made even more satisfying by a soft, matte finish to each button that dampens the keypress ever so slightly. It's a small difference, but adds up to a remarkable feeling that actively encourages me to write more. Further, the material doesn't feel as if it will wear away, unlike some rubber-coated keys I've used in the past, so this should hold up in the long run.
The matte surface on the palm rests, the top and bottom of the Yoga 9i, and on the 135mm x 80mm touchpad are all similarly lovely to feel and look at, though they do seem to attract fingerprints and the oils associated with one's skin. A healthy, periodic buffing with a microfiber cloth will go a long way to keeping this looking fresh.
Improbably Great Sound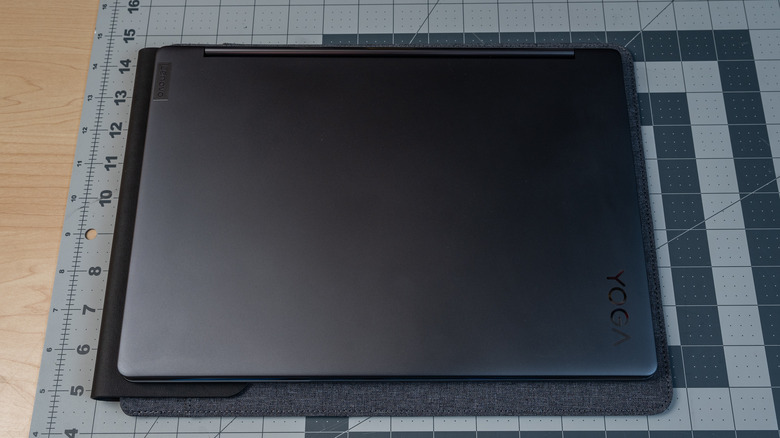 Chris Tonn/SlashGear
Clicking over to Netflix after a long day is a joy here due to the Bowers & Wilkins three-watt woofers embedded on the foremost edges of the keyboard panel, paired with the unusual two-watt tweeters fitted within the hinge. Their placement ensure that, no matter the orientation in which you're viewing, you'll always have speakers facing you rather than a table. 
It's a system that works quite nicely, too. A rewatch of a favorite while heading back and forth to the kitchen to stir dinner gave me remarkably clear sound from across the room, assisted by the Dolby Atmos technology baked into the Yoga 9i. 
On the subject of less-welcome noise, though, Lenovo's cooling fan can get genuinely loud; distractingly-so at times. Upon restart after an overnight Windows 11 update cycle, the Yoga 9i unlocked and then spun up the fan for a good minute or two before settling down to the more typical quiet mode. It's not often that it gets loud — though some applications like Adobe Lightroom Classic do tend to tax the processor a bit more especially when exporting larger images — but when it does, you'll definitely notice it.
Lenovo Yoga 9i Verdict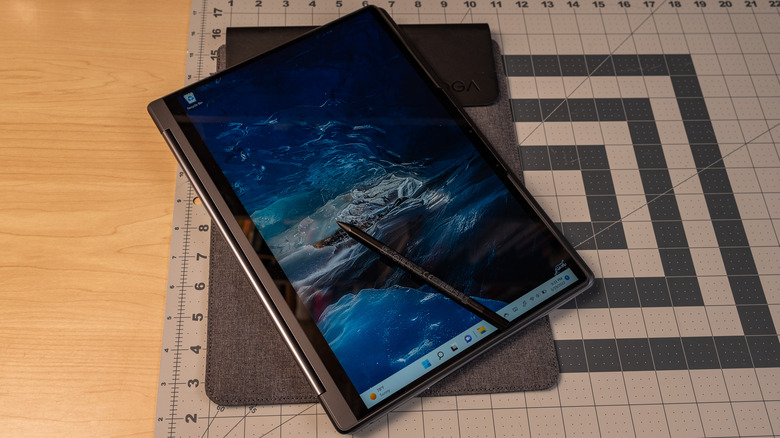 Chris Tonn/SlashGear
While the improved durability of modern laptop/notebook/ultrabook devices is a big win, I do lament the loss of one feature from the cheap laptops of my past: the plastic case. Certainly, while the modern metal chassis — like the CNC-machined aluminum found here on the Yoga 9i — are great for both longevity and looks, they can be genuinely cold. Much of my work finds me in my home office in my basement, which hovers around 63 degrees year-round. As we've found from a couple of years of working from home, pants tend to be eschewed rather quickly, but these cold metal machines are a shock to bare thighs. Apologies to all who were just struck by the mental image of my legs.
Pasty quads aside, I feel confident in recommending the latest Yoga 9i to nearly anyone looking for a do-it-all portable computing companion. It won't be a desktop replacement for anyone doing frequent heavy graphics work, and equally-unsurprising those hoping to do video editing or gaming should look to something with a more potent CPU and GPU. For daily tasks, travel, and distractions in a hotel, though, this Lenovo will bend to the will of nearly any other work you can toss at it.